Educating the WholeHearted Child: A TOS Review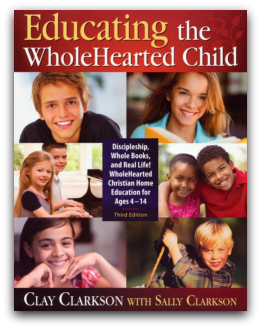 Sacha's<25: 
Educating the WholeHearted Child
is a must have book, chock full of ideas and resources to help you homeschool and build relationships within your family.
Home in the Trenches Product Rating (out of 10 stars)
Is it worth our time?  10 stars
Did it help us learn?  10 stars
Is it worth the money?  10 stars
Is it useful to me?  10 stars
Practicality-  10 stars
Quality-  10 stars
Kid Rating-  N/A
There are a few books on my bookshelf that I refer back to time and time again….This is one of them.  I know I just received this book for review 6 weeks ago, but I purchased the last edition 7 years ago.  I had so many dog-eared pages of my last copy and I would return to it again and again for support, inspiration, and practical homeschooling tips.
I was interested to see what could be so different that it needed another edition. The cover is NOT the only thing that has been updated! They have added some very useful technology information and have also included over 130 pages of all new material (not counting the many pages of existing material that have been rewritten and updated.)
This book has over 375 pages!  I get annoyed with books that boast about how many pages they have, only to find that they left blank pages between chapters, used large fonts and had wasted space, just to seem big. THIS IS NOT THE CASE.  They even use the margin space for Bible verses, quotes, list of tips, etc.  
Table of Contents
PREFACE: A WholeHearted Journey for Home
INTRODUCTION: Christian Homeschooling — Taking a Step of Faith toward Home
SECTION 1: HOME
Chapter 1: The Christian Home — Learning to Be at Home with Christ
Chapter 2: The Christian Homeschool — Learning at Home to Be with Christ
Chapter 3: Home Nurture — Shepherding Your Child's Spirit to Long for God
Chapter 4: Home Discipleship — Shaping Your Child's Heart to Live for God
Chapter 5: Home Education — Strengthening Your Child's Mind to Learn for God
SECTION 2: LEARNING
Chapter 6: The WholeHearted Learning Model — Living and Learning Together at Home
Chapter 7: The WholeHearted Learning Home — Creating a Home You Can Learn Within
Chapter 8: The WholeHearted Learning Child — Understanding Your Child
Chapter 9: The WholeHearted Learning Youth — Beyond the WholeHearted Child
SECTION 3: METHODS
Chapter 10: Discipleship Studies Methods — The Study of the Bible
Chapter 11: Disciplined Studies Methods — The Study of the Basics
Chapter 12: Discussion Studies Methods — The Study of Ideas
Chapter 13: Discovery Studies Methods — The Study of Learning
Chapter 14: Discretionary Studies Methods — The Study of Living
SECTION 4: LIVING
Chapter 15: Family — Keeping the Vision Alive
Chapter 16: Structure — Keeping the Homeschooling Together
Chapter 17: Order — Keeping the Home Together
Chapter 18: Support — Keeping the Spirit Strong
POSTSCRIPT: The Challenge — Keeping Faith in the Family
RESOURCES 
A: Books for the WholeHearted Family
B: Books for WholeHearted Learning
C: Forms for WholeHearted Learning
Notes Pages
The last 40 pages are awesome lists!  The first list is books for the family to read and learn from, listed by categories. There is another list of books to help equip and encourage us in our Christian parenting, homeschooling, and family life.  Then it is topped off with FORMS! I love forms and this is like the diamond field of forms!  Chore charts, planners, Bible reading plans etc.  But it isn't just a million forms to choose from, it is really just the best of the best-18 forms to make your life and learning a whole lot more organized!
In case you still aren't convinced that this is a great book, click here to read the first chapter!
Educating the WholeHearted Child includes topics such as:
The WholeHearted Philosophy of Eduction (and family life)
Counting the cost before you begin homeschooling
How to build a home library
How to choose curriculum
Understanding your child
Learning style indicators
Preparing your child for a calling and career
Roles of mom and dad in the family
Standardized testing
An even more,

there are just too many to list!
To sum it up: If I had to pick one book to recommend to new and seasoned homeschoolers that is the best overall resource it would be this book!  Well worth the value of the book many times over! Head over now to purchase your book — you won't regret it — no matter what type of homeschool parent you are!
The important information:
Educating the WholeHeart Child
by Clay and Sally Clarkson
ISBN: 978-1-932012-95-8

Order from: Apologia Educational Ministries



Price: $22.00
To read other TOS Crew reviews of this product click here.
Disclosure/Disclaimer:  I received the above product free of charge for review purposes.  I am only expected to give an honest review.