Z-Guide to the Movies: A TOS Review
Sacha's<25: These movie guides are a creative way to teach kids using specific movies. They incorporate questions, hands on activities, a worldview activity, and A Filmmakers Art Activity.
Home in the Trenches Product Rating (out of 10 stars)
Is it worth our time?  10 stars
Did it help us learn?  10 stars
Is it worth the money?  9 stars
Is it useful to me?  10 stars
Practicality-  10 stars
Quality-  10 stars
Kid Rating-  10 stars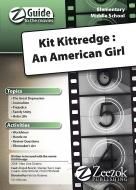 These Z-Guide to the movies are such an amazing resource. The Zeezok website has the Z-Guides organized by historical time periods.  Some movies are for high school, while some are for the younger set.  I was able to review the Z-Guide for Kit Kittredge: An American Girl.  I had this movie already, but if you don't have the movie most are available from Netflix.  You could also try to find them at the library or purchase them from Zeezok.  We received this review right before we took Christmas break.  I was a bit afraid that I wouldn't get my daughter to go along with trying this out, thinking she would think it was "school".  Boy was I wrong.  She jumped at the opportunity to try this out, even the research part of it!  Check out more about it below and then I will tell you about our experience!
From their website:
If your student enjoys watching movies, we just made it easy for you to incorporate them into your curriculum. We have dozens of guides— each of them falling within a specific time in history. All of the guides contain ten educational activities that build upon the movie. The guides are movie specific. We tell you exactly which movie we used, and almost all are available thru Netflix. Most you can probably get through your local library. So you don't even need to buy the movie to use our guides!
Each guide starts out with a topic overview. This overview provides the student with more information regarding the specific time period in which the movie is based. Next is a movie synopsis. The synopsis will assist the student in understanding what is going on in the movie and how relationships, situations, and events all relate together.
The first activity is always review questions. We recommend the student answer these as they watch the movie. We want to be sure they are paying attention and being an active learner versus a passive viewer.
The next several activities all build around the historical time of the movie. The questions in these activities may be more about the people or events that happened in the movie. These questions cannot be answered from watching the movie. (We all know you don't get accurate facts from a Hollywood movie.) The student will learn research skills because he will need to use either the library or the internet to properly answer these questions. Some of the activities involve writing an essay. For example, in the Scarlet Pimpernel the student is asked to write a one page essay condemning or condoning the actions of the Scarlet Pimpernel. So the student is learning research and writing skills during the process.
Each guide also contains at least one hands-on activity, a worldview activity, and The Filmmaker's Art activity. The hands-on activities for the active learner vary depending on the guide and include activities such as creating a treasure hunt, completing an art project, or planning and making a meal for the family.
The worldview activity helps the child to understand the movie's worldview. This activity is not to impress on the student our personal worldview, but to get the student to think critically through what he believes and what is being presented in the movie. Family discussion questions also develop this critical thinking from the worldview promoted within your family.
The Filmmaker's Art activity helps the student recognize the tools being used to influence the viewer. The various guides discuss how filming techniques, music, lighting, humor, character development, irony, foreshadowing, and even character names are used by the director and producer to influence the viewer to get their agenda across. We want the student to be able to discern not only the agenda of the movie, but also how they are being influenced by it. The goal is that when the student goes to the theatre and watches Harry Potter or Avatar orHappy Feet, he walks out not thinking it was an entertaining movie, but understanding the bigger message behind each film.
We recommend the student completes two activities per day, taking a week to complete. Z-Guides are meant to supplement your current history curriculum. They are not intended to replace your core curriculum for history.
And yes, answers are provided for all of the questions. We tried to make it as easy as possible on you.
Click here to see a sample Z-guide to the movies!
What I liked:
They give you a guideline as to how to use this amazing resource….it takes about a week, but you could stretch it out if you need to!

Love that they write the questions to be answered DURING the movie, this really helps the student to pay attention to the movie and the details! (this makes them an active learner instead of just a passive viewer)

They are age appropriate.

The Filmmaker's Art Activity is really cool.  These guides discuss how filming techniques, music, lighting, humor, character development, irony and foreshadowing are used but the director and producer to influence the view to get their agenda across.  (This is such a great way to teach our kids not just to be fed what Hollywood feeds them, but to finish a movie and understand the bigger messages behind each film).

There is an answer key!

A family discussion guide is also included…great around the dinner table!

It makes learning FUN!
What I didn't like:
Our Experience:
Like I said at the beginning, what I thought was going to be hard to get my daughter excited about was a pleasure to use.  She watched the movie and then answered the questions (Then we realized she was supposed to do them while watching the movie–would have been better that way!)  She moved right along to doing the research portion.  This included researching the Dust Bowl, CCC, 2 women photographer/photo journalists, the influenza epidemic and if a baseball player mentioned in the movie was really a person. The next activity centered around Hobo signs and she got to solve the codes and create a message for her siblings using the hobo signs we researched (from websites they provided!)
Following that:
Activity 4 was a vocabulary worksheet.
Activity 5-become a newspaper reporter and report about something that happened in the Depression.
Activity 6-Create a Power Point presentation of the clothing fashions in America during the Great Depression (it includes a list of questions to help them get started in observing differences).
Activity 7-Who Am I?-Gives a general description/clue of a person in the movie and you have to guess who it is.
Activity 8-Litereary Devices:Ironic Foreshadowing or Foreshadowing Irony.
Activity 9-Worldview-What is prejudice and pride including questions about how they are used or seen in the movie.
Activity 10-Filmmaker's Art and Dramatic License—lighting, irony, music and color.
Family Discussion-great questions to share together as a family.
Answer Key!
To sum it up: Wow, this is just such a great resource that I am thrilled to have in my back pocket!  Seems like most kids/adults like movies and this is a great way to take a history topic and study it in a fun way, all while learning about a movie's worldview and helping our children learn how to discern for themselves!   By the way, if you don't see a specific movie you are looking for they are adding another 25 movie guides this spring 2012!
The important information:
Published by:  Zeezok Publishing, (800)749-1681, info@zeezok.com
Order from: Zeezok.com
Price: $12.99 for e-book or CD. (wanting to used it for a co-op or classroom, they have a license price for that…$49.99)
To read other TOS Crew reviews of this product click here.
Disclosure/Disclaimer:  I received the above product free of charge for review purposes.  I am only expected to give an honest review.