Kinderbach: A TOS Review

Sacha's<25: An online or DVD based piano curriculum for beginning learners ages 3-7.  It includes over 22 hours of video instruction and activity pages to go along.
Home in the Trenches Product Rating (out of 10 stars)
Is it worth our time? 8 stars
Did it help us learn? 7 stars
Is it worth the money? 10 stars (if you are comparing it to actual piano lesson costs of $10-$20 a 1/2 hr)
Is it useful to me? 8 stars
Practicality- 8 stars
Quality- 8 stars
Kid Rating- 9 stars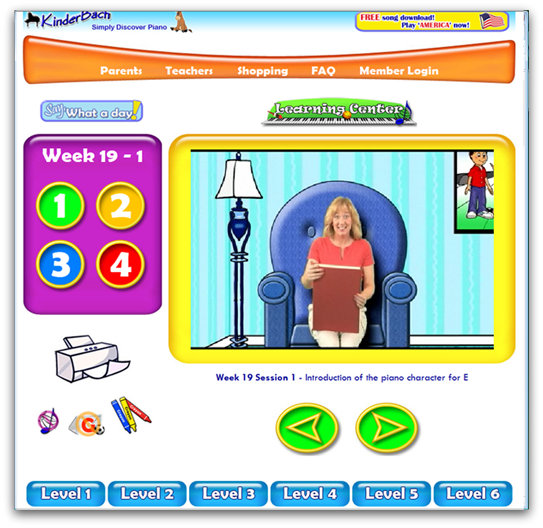 Your children ages 3-7 will have a blast singing, dancing, making rhythms, learning piano, coloring and hanging out with Karri and her cartoon friends.  I was given an online subscription to review.
My children (Faith, 5 and Grace, almost 3)  beg me to "put on Dodi," otherwise known as Kinderbach.  They  whiz through 2-4 lessons in a sitting.  The program is set up by weeks, within each week are 4 short lessons.  The first lesson in each week is just a short introduction to tell you what you will learn that week.  (about a minute long) The next lessons deal with piano keys, high and low notes, rhythms etc. The ones we watched ranged from 3-7 minutes in length. I appreciated how the lessons are laid out.  Lots of songs and are taught in a way that a child can understand!
Now, don't think that you can just pop in the DVD or click on the video online and leave your child to themselves.  I found that it was best to do it with them….they still had questions and needed help with things at times.  But, it is really fun to do it with them!
If you are wondering about DVD or online lessons let me give you my 2 Cents!  I found it was really nice to have my piano keyboard right in front of where we watched the lessons.  This was great to do right in front of the computer.  However, if your piano and computer aren't in the same room you might want to think about what is best for you.  The prices are very different based on what package of DVD's you buy or how you do an online subscription.
You might be wondering if you need a piano for the lessons?  No, you don't…a keyboard would work and really the beginning lessons can be done without a keyboard.  They are even slowly converting all the lessons to be able to be viewed on an iPhone/iPad/iTouch!
From the Kinderbach website:  
KinderBach uses playful characters to teach note reading, rhythm, singing, and composition. Give your children the best foundation for brain development, all from the comfort of your own home! Level 1 to 6 covers proper hand and finger position for the music scale, as well as staff note reading by pattern for voice, and keyboard. Click here to check out their website and see a video introducing Kinderbach to parents.
 What I liked:
30 Day Money Back Guarantee! (not that I think you would need it)

Free Online Trial

Check it out here!

The online lessons are well organized and easy to navigate.  Printable coloring sheets that correspond with the lessons are able to be printed from the same page that the lesson is on. (no searching around the site to find the matching lesson coloring page)
Easy to use with multiple children.
My kids enjoyed the lessons and would ask for more.
My older 3 kids are in private piano lessons, while I am not ready to pay for the younger ones to take lessons, nor do I think they are ready…this is a great way for them to get an introduction to piano and feel like they are taking lessons like their older siblings.  Much more laid back in approach and more "play" than instruction!
It is fun.  I don't think that my children knew that they were working at learning things!
Parents do not need to have a musical background.  (I have been playing some instrument since I was 8, but it really isn't needed by the parent to get their children started here)
What I didn't like:
While I found some of it to be a bit cheesy/kiddy..my children did not.  I would just be aware that if you are planning on using this with a child maybe ages 5 or up that you may want to try the free trial just to see what they think.
To sum it up: If you are looking for a way to start your children (ages 3-7) off with music instruction but aren't really ready to put them into private lessons this is a great way to start! Personally, I don't think children really need to take private lessons before this age.  If they are begging to start piano check out this program and they can learn at their own pace until you are ready to take the plunge into private lessons.
The important information:

Order from: Kinderbach— http://www.kinderbach.com/
Price: 
WEB BASED LESSONS:
* Access to all web lessons (over 240 sessions!)
* Accompanying downloaded PDF pages
$7.99 a month – Billed in a one time annual payment of $95.88 (Great Value! Save 60%)
or $19.99 monthly subscription – Billed monthly for a year (12 separate payments)
DVD BASED LESSONS:
Packages run from $55.95-$222.88 Please click here to check out all of the package options.
To read other TOS Crew reviews of this product click here.
Disclosure/Disclaimer:  I received the above product free of charge for review purposes.  I am only expected to give an honest review.