ALEKS: A TOS Review
Sacha's<25: A web based math curriculum for grades 3-12.  By using adaptive questioning this program knows what to teach your child and when they are ready to learn it.
Home in the Trenches Product Rating (out of 10 stars)
Is it worth our time?  9 stars
Did it help us learn?  9 stars
Is it worth the money? 7 stars
Is it useful to me?  9 stars
Practicality- 9 stars
Quality-  9 stars
Kid Rating-  9 stars
What is ALEKS?
Assessment and LEarning in Knowledge Spaces is a Web-based, artificially intelligent assessment and learning system. ALEKS uses adaptive questioning to quickly and accurately determine exactly what a student knows and doesn't know in a course. ALEKS then instructs the student on the topics she is most ready to learn. As a student works through a course, ALEKS periodically reassesses the student to ensure that topics learned are also retained. ALEKS courses are very complete in their topic coverage and ALEKS avoids multiple-choice questions. A student who shows a high level of mastery of an ALEKS course will be successful in the actual course she is taking.
ALEKS also provides the advantages of one-on-one instruction, 24/7, from virtually any Web-based computer for a fraction of the cost of a human tutor.
 ALEKS states that it will help homeschoolers by  providing you with the instruction and support you need to homeschool your children in mathematics for grades 3-12.  ALEKS is accessible from virtually any computer with Internet access, making it a flexible and mobile educational solution for your children.
ALEKS is a Research-Based Online Math Program:
Complete Curriculum Solution for Math with Access to Full Course Library
No Textbook Required
Artificial Intelligence Targets Gaps in Student Knowledge
Assessment and Individualized Learning for Grades 3-12
Master Account – Monitor and Direct Learning Progress
Unlimited Online Access – PC & Mac Compatible
Our Experience:  
We received a trial online subscription of ALEKS in exchange for a review.  I enrolled both of my boys for this review.  Before starting this program they were both doing Horizons math. Andrew is doing 3rd grade math this year. Matthew is doing 6th.  They boys were very eager to get started on this program.  Before they could start they each had to take an assessment test online to see what they each knew.  They each completed the assessment in one sitting and then started on the program lessons the next day.  ALEKS suggests that they work about 30 minutes a day.  The lower grade levels also include Quick Tables.  Quick Tables are basic math fact drilling.  Once they completed the assigned amount of times on Quick Tables they earned game time.  This was a great way to get them to review their math facts.  It also shows the student which facts they know and which ones they need to still work on.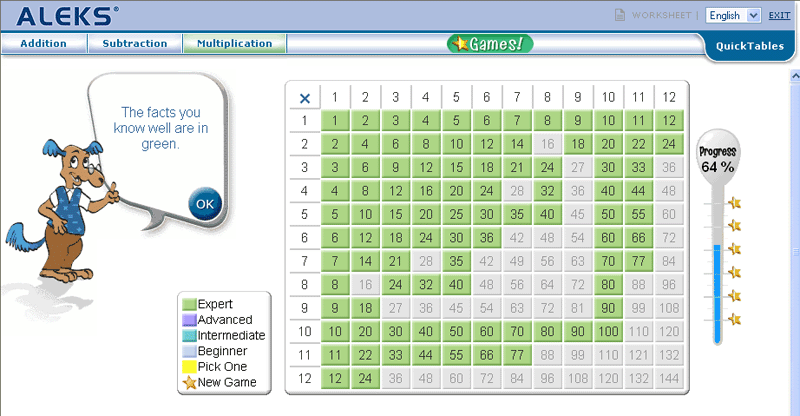 One of the things that was so neat about this program was that it put the child in charge of what they wanted to learn.  As you can see below the student can see what they already know (the darker part of each pie piece) and how many topics they still need to learn.  Once a pie piece is filled in they are done with that section in math.  My kids both wanted to finish a pie piece at a time.  I think they felt a sense of accomplishment.  It also tells them how many topics they still need to learn in order to be finished with that grade level.  Each pie topic will give the child a few options of what they can choose to work on within that area of study.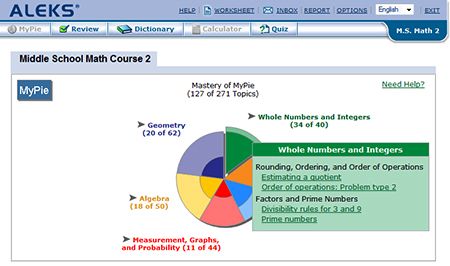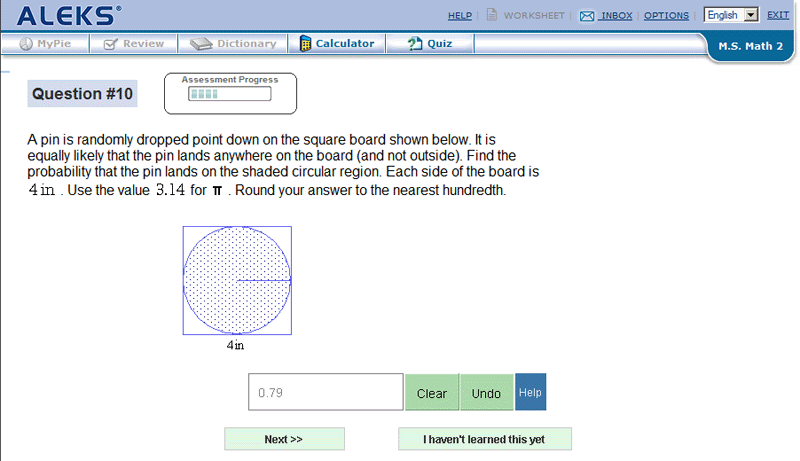 When you sign up for ALEKS you are given a master account and a student account.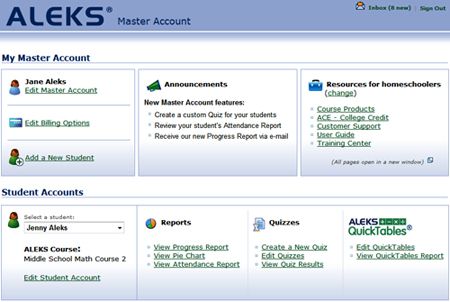 What I liked:
It keeps track of everything for me.  It remembers when to test them (either after learning so many new topics or a specified amount of time they have spent using the program)
The boys eagerly did their math each day
It was online and can be done anywhere…no textbooks if you are traveling.
It had a nice amount of problems for each topic.  If they could answer 3 of them correctly it would let them move onto a new topic.  If they got the problem wrong they would need to do another one, until they had done 3 correctly. They would then have to review it the next day to make sure they still understood the topic.
ALEKS emailed me a student report every 2 weeks.
I loved how it would keep track and have reports of how long they have been on each day as well as which topics they are ready to learn and what ones they will still need to learn.
GREAT customer service! I had to call because ALEKS wasn't working on my husband's laptop….they quickly were able to diagnose the problem and tell us what we needed to update on our computer to make it work!
What I didn't like:
I was hoping that this program would make math completely "hands off" for mom!  Unfortunately this was not the case…the kids still needed me to read over the explanations with them.
We have a lot of kids….this program isn't as cost effective to use.  You aren't able to purchase a grade level and use it over again.  They do give a discount for multiple children.
It isn't very visually fun to look at.  I know this is totally a personal preference.  I like color on math pages, others find it distracting.  Most of the problems are just black and white.
Having more than 1 child on the program meant that my computer was unavailable for a chunk of each day…something to consider if you only have 1 computer and lots of learners!
To sum it up: 
The boys both really enjoyed this program and doing math on the computer vs workbook style learning.  Depending on how your child learns math best, this might be a great fit for you family!  They offer a free trial!  What a great way to see if this will work for your student!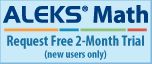 The important information:
Order from: http://www.aleks.com/
Price: 
A subscription to ALEKS is
$19.95 per student, per month, or
only $99.95 every 6 months, or
only $179.95 every 12 months.
Learn about the  family discount program.
To read what other crew members had to say about ALEKS click here.
Disclosure/Disclaimer:  I received the above product free of charge for review purposes.  I am only expected to give an honest review.