Who Am I? By Apologia Press: A TOS Review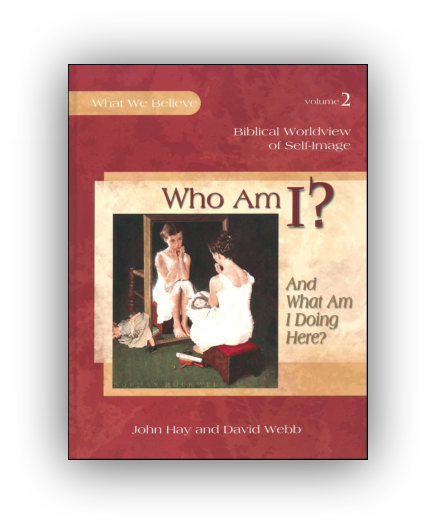 Sacha's<25: This amazing biblical worldview curriculum will help teach your 6-14 year olds about who they are in God and how they should live because of it!
Home in the Trenches Product Rating (out of 10 stars)
Is it worth our time? 10 stars
Did it help us learn? 10 stars
Is it worth the money? 9 stars
Is it useful to me? 10 stars
Practicality- 10 stars
Quality-  10 stars
Kid Rating-  10 stars
Who Am I?  is Book 2 in Apologia's What We Believe series. Apologia generously gave us the Who Am I? Book, Audio CD, Notebooking Journal and The Coloring Book to review!  Wow, what a blessing it has been!  I was a bit unsure how we would use this in our school day. I have found that families use it differently.  Some use it for evening family devotions, others use it 2-3 days a week and then do a more "traditional Bible lesson" on the other days.  Since we were trying to test drive it we have actually put our usual Bible curriculum aside for these few weeks so that we could really get an idea of what this series is all about.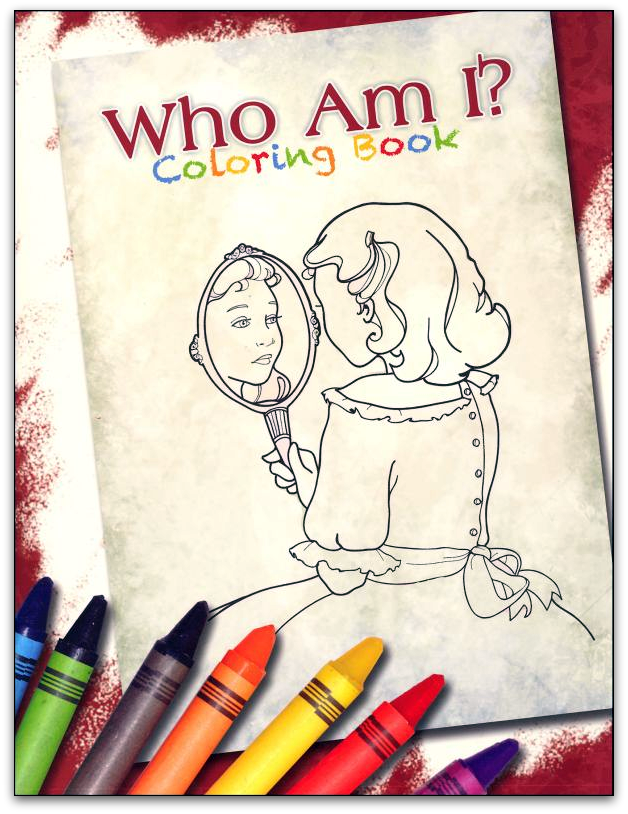 My just turned 5 year old would listen in and do the coloring pages while we went through some of the lessons.  (if you don't remember I have a 6th, 5th and 2nd grader-along with a 5 and almost 3 year old) The first portion of the lesson we listened to from the Audio CD.  We love audio CDs in our family because mom can listen and get something else done at the same time. I am a mulit-tasker! Something I can't do when I am reading aloud.  
I was very excited to pop it in and have everyone listen.  They did, but after it was over they asked if I would just read it to them from now on.  A bit disappointing.  Unfortunately the CD voice just doesn't have the same level of enthusiasm as Jim Weiss reading Story of The World.  Don't get me wrong.  It isn't bad and in a pinch I would still use it.  I am just not sure that I would pay $19 for it. By the way, we couldn't play it on our CD player.  I had to pop it into my computer to get it to play, and it wasn't very easy to figure out what track was what we wanted to listen to.
All I can say is that I have never seen anything like it! This book opens great discussions about life and how we really apply what we learn in the Bible.
I couldn't say this any better so here it is from their website:
Our children are bombarded on a daily basis with competing messages. Every song, movie, book, TV show, blog, and game is full of ideas—ideas about truth, morality, beauty, identity, faith, and more. Not all of these ideas are true. Some are wrong, some are deceptive, and some are outright destructive. It is more important than ever that young children be equipped to discern among competing ideas and stand in the truth. This is why Apologia has teamed with Summit Ministries to bring you the "What We Believe" Series. The "What We Believe" Series is an outstanding way to teach your child the essential beliefs of the Christian faith, but it's so much more! With this student-directed, Bible-based curriculum, your children will learn how to use Scripture as a lens through which to view the world around them—to see everything the way God sees it—and know the truth.
Description of the Book:
The second book in the What We Believe series, Who Am I? (And What Am I Doing Here?) helps children understand what it means to be fearfully and wonderfully made in the image of the Most High God. This study will enable students to develop a healthy self-image based on these biblical truths: God made me in His image and crowned me with glory; He has given me special gifts and a unique purpose in life; I can creatively express God's love; I am meant to think about beautiful and praiseworthy things, especially God and His Word; I must make decisions based on God's truth; I can always know the wise thing to do; I must cultivate the fruit of the Spirit in my life; I am a beloved child of God whose true identity is found in Christ.
Table of Contents:

(Click

here

for a full description)
Lesson 1: What Are We Doing Here?
Lesson 2: What Will You Make Today?
Lesson 3:What's On Your Mind?
Lesson 4: Can You Trust Your Feelings?
Lesson 5: Will You Choose Wisely?
Lesson 6: How Will You Run the Race?
Lesson 7: What Kind of Fruit are You Growing?
Lesson 8: Who do You Think You Are?
Lessons are recommended to take 2-3 weeks to complete. The lessons have such a variety of ways to get the points across.  In the first lesson alone we read about a little boy in Russia who had a clubbed foot, a Muslim girl named Amira, and Superman.  We also had a lesson on the character of God with lots of cool, big words like Omniscient, Omnipresent and Omnipotent!  Oh and did I mention the amount of Scripture sprinkled in is amazing?  Maybe I should say that it is poured throughout the text!  We very excited about all the book has to offer and when this review is over we will still be using this book!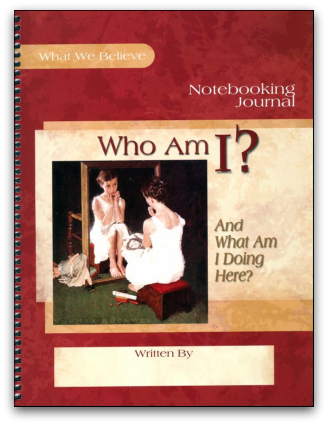 What I liked:
It is real.  It isn't fluffy.  It is totally applicable to a kindergardener all the way up to an adult.  While the text is recommended for ages 6-14 it is really a great resource for the whole family.
Very similar in style to the Apologia Elementary Science books, which we also love, so it was very easy to jump in and use.  (Unlike some curriculums I have used in the past.)
The activity book is really neat!  Once again similar in style to the Note Booking Journals for science.  However, if you are having your children notebook for history, science, etc then this might be overkill.  I think that it makes everything a bit more applicable to them with some of the questions and activities in it!  I let my 10 year old daughter use the note booking journal.  She took it very seriously and really enjoyed doing all of the activities….crosswords, mini books, copy work etc.
I love everything I have seen from Apologia!  If you aren't that familiar with Apologia please check out all they have to offer.  Earlier this year I was fortunate enough to get to review

Educating the Wholehearted Child

 and

How to Have a HEART for your Kids

 

both sold through Apologia.  Apologia is  a great resource for the homeschooling family!



What I didn't like:
You will think this is funny….I couldn't put it in a neat little homeschool category….it's Bible, but in a way I have never experienced….it is so much more!
The audio CD, like I mentioned earlier is a bit monotone. It isn't the most user friendly to figure out what track you want….not sure if this shows up differently in a PC.  We have a Mac.
To sum it up: Looking for something different that will teach your kids Bible to be applied to their lives today?  Then stop reading this right now and check out the sample lesson….then go buy it, you won't be disappointed!
The important information:
Published by:  Apologia Educational Ministries
Order from: Apologia
Price:
Who Am I Book- $39
Who Am I Audio CD- $19
Who Am I Notebooking Journal- $24
Who Am I Coloring Book- $8
To read other TOS Crew reviews of this product click here.
Disclosure/Disclaimer:  I received the above products free of charge for review purposes.  I am only expected to give an honest review.