Reading Eggs: A TOS Review

Sacha's<25: Reading Eggs makes learning to read interesting and engaging for kids, with great online reading games and activities. We love it!!!!
Home in the Trenches Product Rating (out of 10 stars)
Is it worth our time?  10 stars
Did it help us learn? 10 stars
Is it worth the money?  9 stars
Is it useful to me?  10 stars
Practicality-  10 stars
Quality-  9 stars
Kid Rating-  10 stars
Reading Eggs is an amazing online based program to help your children ages 4-7 learn how to read.  Reading Eggs now has 100 big lessons.  We were able to receive a 2 month subscription for one child to review.  I chose to have Faith use it since she was eager and ready to learn more about reading.  She turned 5 in December and while I have been working with her on reading she still has a long way to go.  Before we started to the program she knew all of her letter sounds and maybe 10 "a" words like cat, sat, hat etc.
She was a bit reluctant to get started as I wanted her to take the placement test.  Since she already knew her letter sounds I knew that she wouldn't start at the beginning of the program.  Reading Eggs offers a pretty quick assessment  (40 questions) to figure out what lesson your child should start at.  Below is a screen shot of one of the assessment questions.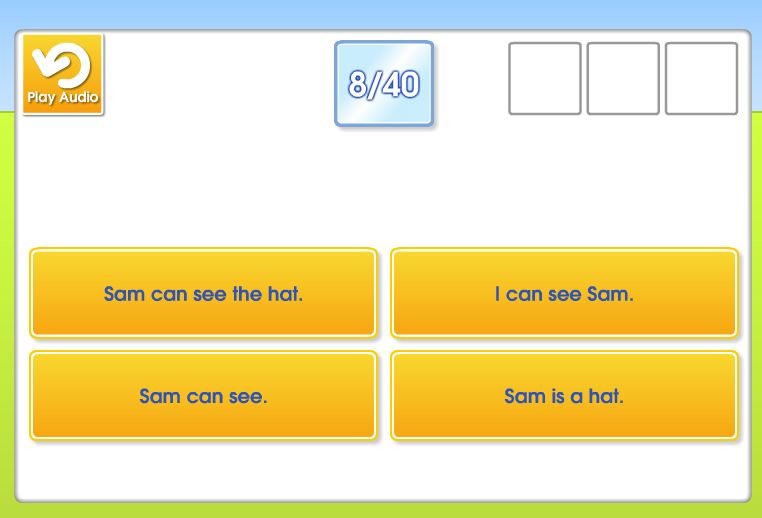 Once she completed the placement she was able to get started right away.  In Reading Eggs World, children have their own house to decorate, a big new shop, and an avatar that can walk and travel to many new destinations on Reggie's bus. Children are able to choose their own adventure from a wide range of activities and places to go. Each lesson has quite a few different activities that she needed to complete.  Once she completed them she would hatch a new "animal".  She loved seeing what each animal would hatch to be and what they could do.
As Faith was doing the lessons she would earn eggs.  These eggs were then able to be used to buy game time, or decorations for her character's house or new clothes etc for her character.  Faith loved it.  She would spend hours at a time playing.  (Now, I wouldn't normally let her play hours at a time, but for review purposes it was nice to see how much she loved it and I was able to see more of what the whole program was like)  On a normal basis, I would think 30 minutes 3-5 times a week would be great.  Grace (just turned 3 this week) watched her big sister playing Reading Eggs and begged to have her own account.  Great news is that Reading Eggs offers a FREE 14 Day Trial!  
I have to say that I have been super impressed with this program.  As you know I have reviewed at least 4 different phonics/reading programs this year.  This is by far the best one!  She has learned so much! She is reading lots of words, spelling them and even placing them into sentences! Thanks to Reading Eggs what has been a frustrating experience for mom and daughter has become enjoyable!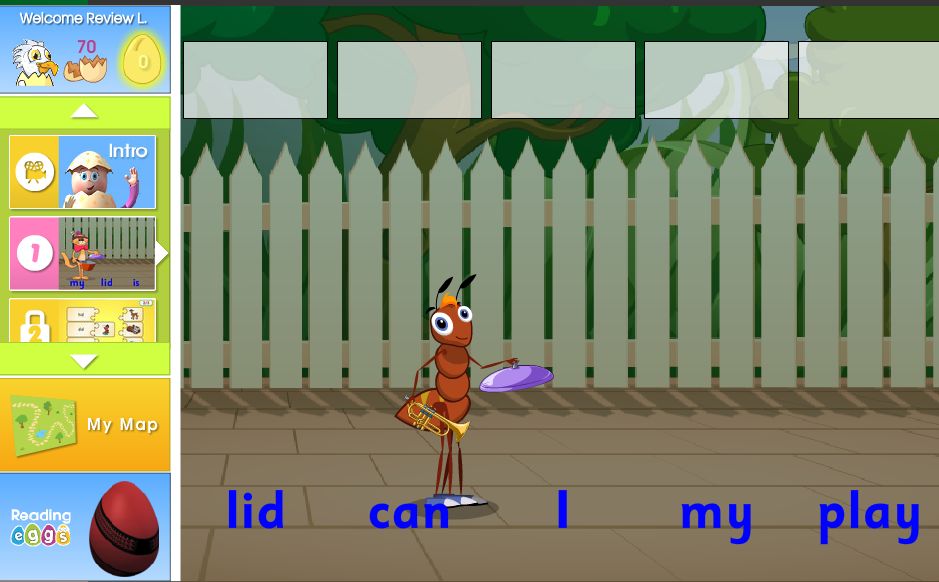 Reading Eggs are still building more NEW lessons for our older Eggsplorers as part of Reading Eggs World. This world is perfect for 6-8 year olds who already know the basics of reading but who still have much to learn about reading, writing, spelling, and comprehension. This exciting new world has lots of new lessons, a creative story writing factory, new games and will soon have many wonderful new books to read in Storylands. The learning focuses on building reading fluency and comprehension, spelling, vocabulary, and a range of writing skills including grammar and punctuation.
What I liked:
Quick, short, FUN lessons.
Faith actually loved the lessons so much that she rarely spent her "eggs" for games!
While your child is waiting for the program to load they have different activities to keep them busy while they are waiting.  Our internet is pretty quick so she didn't have much time to do them, but I can see this being really handy if you had a slower internet connection.  For example, "catch the letter s".  So letters would drop from the top of the screen and she would move the mouse around to try and catch the right letter in her basket.  There are tons of different activities just to keep your little one busy while they wait for the next activity to load!  Genius!!!!
If you also want…there are free activity sheets to go along with each lesson that you can print out and have your child do.
What I didn't like:
Occasionally the program would freeze.  We found that if we just hit the back button in our browser it would reset and she could just start that portion of the lesson over.  No big deal, except a bit trying on a 5 year old's patience.
To sum it up: If your child is just getting ready to read or is a struggling reader you should check this program out.  It is just the right combination of fun and learning and perfect for 4-7 year old attention spans!  Please do yourself and child a favor and try the FREE 14 Day TRIAL!  You won't regret it.
The important information:
Sign up: Reading Eggs
Great for ages 4-8
Price:
1 month- $9.95 (please note that the longer you subscribe for up front the cheaper it gets!)
6 months- $49.95
12 months- $75
****They also offer a multi user discount for families….I believe it is 50% off for any users after the first one.
To read other TOS Crew reviews of this product click here.
Disclosure/Disclaimer:  I received the above product free of charge for review purposes.  I am only expected to give an honest review. Please realize I don't even need to mention you should sign up for a free Trial…..BUT I REALLY THINK YOU SHOULD!