The Art of Argument: A TOS Review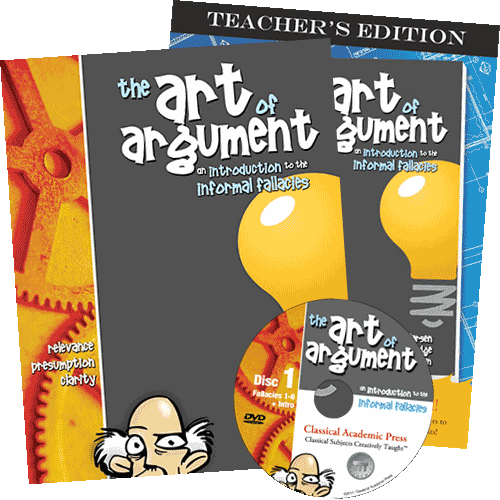 Sacha's<25: A wonderful way to teach your 7-9th grader how they are bombarded on a daily basis with fallacies from media, advertising and others and how to recognize them!
Home in the Trenches Product Rating (out of 10 stars)
Is it worth our time?  9 stars
Did it help us learn?  9 stars
Is it worth the money? 9  stars
Is it useful to me? 8 stars
Practicality- 9  stars
Quality-  9 stars
Kid Rating- 9 stars
From Classical Academic Press' Website:
Junior high aged students will argue (and sometimes quarrel), but they won't argue well without good training. Young teens are also targeted by advertisers with a vengeance. From billboards to commercials to a walk down the mall, fallacious arguments are everywhere you look. The Art of Argument was designed to teach the argumentative adolescent how to reason with clarity, relevance and purpose at a time when he has a penchant for the "why" and "how". It is designed to equip and sharpen young minds as they live, play, and grow in this highly commercial culture. This course teaches students to recognize and identify twenty-eight informal fallacies, and the eye-catching text includes over sixty slick and clever, "phony advertisements" for items from blue jeans to pick-up trucks, which apply the fallacies to a myriad of real life situations.
This text comes in a workbook format with clear explanations and many updated illustrations and examples to insure understanding and mastery. The text aims at the practical application of the informal fallacies through an analysis of current social, commercial and political issues, which are discussed and evaluated. This practical application should insure that students continue to evaluate arguments, detect fallacies and reason well long after the course is completed.
Students master 28 fallacies (such as begging the question, the straw man, ad hominen, et al) by studying many pertinent examples. The text features a variety of:
Dialogues
Worksheets
Real-World Applications
Phony Advertisements
Dialectic Discussion Questions
Tests
Fun extras such as a humorous skit for students to perform, and the famous short story, Love is a Fallacy by Max Shulman
The Art of Argument has been revised to include:
Improved chapter and unit organization for greater ease of use
Fallacy explanations rewritten for clarity
Many added and updated examples
Ten new and revised advertisement illustrations
Parents and teachers beware–students may use these skills against you!
The Art of Argument Teacher's Edition and The Art of Argument DVD Set are also available. The greatly expanded Art of Argument Teacher's Edition now includes the entire student text, answers to all exercises, and new chapter and unit tests. The DVD Set features three experienced logic teachers and four capable, enthusiastic students discussing the 28 fallacies with contemplation and humor. Each discussion seeks to make a practical application of the fallacy to student life, advertisements, political speech, and various kinds of ethical and philosophical debates.
Our Experience:
I have a strong willed child.  He likes to argue and tends to talk in circles so that by the time we are done talking to him about an issue we have no idea what we were talking about.  I was very excited as soon as I heard that I might be able to review this item.  Matthew is in 6th grade this year but I was hoping he would be able to handle this material.  He was thrilled when it arrived in the mail and jumped right in.  
The beginning of the text is all about what logic actually is.  We then watched the introduction to the DVD.  It held our attention.  My only complaint was that the man speaking is wearing glasses and when he is speaking into the camera the light is reflecting off of his glasses.  A bit distracting to me, but really a minor problem.  I am all for DVDs though.  I really am starting to appreciate them more now that we are hitting middle school.  I like being able to have someone else explain things as well as myself….they might do it in a different way to make it concrete in their heads.
From just flipping through the pages of the student text I could see that we would be learning a lot from this curriculum.  There are plenty of different styles of teaching….made up advertisements, dialogs, worksheets etc.  Click here to check out a sample PDF.  This sample includes the entire table of contents and about another 40+ pages of text!  A great way to see what you would be getting!
The teachers manual is really nice!  I like that it includes the complete student text.  It drives me crazy when one of my kids asks me a question about something but I have no idea what they are actually asking about because it isn't printed in the teachers manual.  This way I can see exactly what they are looking at without having to stand over them to see it!  In addition it also includes answers to all exercises, and new chapter and unit tests.
What I liked:
It looks fun and hip.  I know this seems silly, but that's important if you want your kids to be excited about something.–It is graphically pleasing to look at, just the right amount of photos, drawings, text etc.
Matthew was eager to do it.  If something goes up to his room I know that it is a hit!  He will spend time on it late at night even if it isn't assigned.
The text is showing how these fallacies are used in everyday ways/situations.  It makes it very relevant to the early teenagers life!
What I didn't like:
I mentioned earlier the glasses on the DVD. (see above)
I wish I had more time to review this.  Due to mix up I didn't have The Art of Argument as long as I would have liked before this review needed to go up.  However, the company has been great to work with and they even had me keep the product that they had sent in error!
To sum it up: We live in a crazy culture and are bombarded all the time with TV, ads, media, politicians, and other people telling us things that aren't true.  Wouldn't it be great to have a way to teach your 7-9th grader how to detect a fallacy?  This is it!  
The important information:
Order from: Classical Academic Press
Price: 
The Art of Argument, An Introduction to the Informal Fallacies–$21.95
The Art of Argument, Teacher's Edition–$24.95
The Art of Argument DVD Set–$54.95
—-or—-
The Art of Argument, Basic Bundle–$88.95
To read other TOS Crew reviews of this product click here.
Disclosure/Disclaimer:  I received the above product free of charge for review purposes.  I am only expected to give an honest review.