Truthquest History-Middle Ages: A TOS Review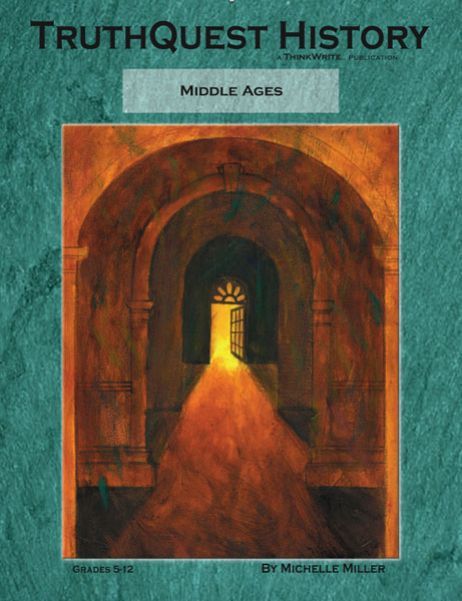 Sacha's<25: A literature based history study designed for 5th-12th grade taking a focus away from mankind and placing it on how God is working throughout history.
Home in the Trenches Product Rating (out of 10 stars)
Is it worth our time?  8 stars
Did it help us learn? 9 stars
Is it worth the money?  8 stars
Is it useful to me? 8  stars
Practicality-  8 stars
Quality- 8 stars
Kid Rating- 8 stars
 From Truthquest History Website:
TruthQuest History is a deep and rich literature-based history study…but with a difference. You will not learn the story of mankind; you will learn the lovestory of mankind. You will not focus on the rise and fall of human civilizations; you will focus on the arrow-straight line of God's unchanging existence, power, love, truth, and plan for civilization. You will not simply 'meet the culture' or 'get the facts;' you will probe the truths of history so deeply that your students will be equipped to change their world!
What we reviewed:
We were given the downloadable PDF version of TruthQuest History-The Middle Ages for review. (TQH has different guides for all the periods in history as well as American History.)  I used this both on my iPad and on my computer, I even printed out some of the pages as well.  To really understand the heartbeat of what TruthQuest History is all about I suggest you click over here to read a bit about their philosophy.  I had never even heard of teaching history from this perspective. They explain that, "The exploration of history, then, should reveal God and His truth, not glorify the achievements of mankind."  
I appreciated that it was pretty easy and straightforward to use.  Once you have collected a few of the books they recommend you are ready to get started.  You may want to purchase the books they recommend as "spine" books and then use the library to supplement those from the book lists provided.  Included on their website is a list of the suggested "spine books" in case you are wondering what they are.  They vary depending on which time period you would be studying.  Also included on the website is a suggested starting place in their curriculum depending on how old your children are.  This is simply to make sure that they cover all of history before they graduate high school.
Once I had collected a couple of the spine books we jumped right in.  I actually had a few of them already so it was easy to get started.  We picked up part way through the curriculum to stay on track with the time period we were currently studying.  Not only are your children hearing a summary/commentary provided in the curriculum they are constantly studying and figuring out what each period's 2 Big Beliefs are: Who is God and who then is mankind?  Who did the people in the middle ages believe God to be and then how did that belief affect how they viewed and treated each other?
After reading the commentary we would then dive in and read some of the books recommended in the guide.  Also included in the guide are Thinkwrite Exercises.  These are placed after a few lessons and give the student a chance to dive in and really get a grip on a specific topic.  These can be discussed or as the student gets older they can be used as essay opportunities.
TruthQuest History also has a yahoo group available for support and ideas.  Also on their website you can see some of the other products available to go with each curriculum guide.  The AJTL Binder-Builder is like a fancy lap book.  They also have notebooking pages which are a different way for your child to record learned information. Another product is the Map/Timeline/Report Package which provides everything you need to help your child learn when and where events happened: maps, reproducible timeline, timeline markers, mini-timeline cards, report ideas, and more.
What I liked:
I loved studying history from a perspective of how God is working throughout history instead of being man-centered.  Don't get me wrong, you are still studying history but you are constantly asking TQH's 2 Big Belief Questions: Who is God, and who, then, is mankind?
Easily customizable to your family.  My 2nd grader was able to do much of history with us and TQH provides options for reading even at his level to go along with each topic being studied.
We were able to pick and choose the books we wanted to use to complement the curriculum.  TQH provides lengthy book lists including which chapters to read for each topic.  We were easily able to find books to use.
TQH was very helpful when I emailed them about a problem that I had.  They are here to serve you and help you.
It is really inexpensive.
What I didn't like:
Depending on which books you choose to use, the revisions of books made it hard to figure out what to read when.  I emailed TQH about this and we came up with a solution…they have added a page to their website with information to make it easy to figure out what you should be reading.  On rare occasion a book revision has taken out a chapter that was originally used in TQH.
This isn't really something I didn't like but want to mention it.   We all homeschool differently.  If you are a teacher who likes to check off boxes, you may need to schedule this curriculum out on a calendar and decide what you want to do with it ahead of time.  It is very loosely written and gives you a lot of room for flexibility.  This is great for some teachers and harder for others.  I like checking off boxes…having the huge book lists of options to read was a bit stressful for me.  I didn't want to miss anything, but you can't do it all!
To sum it up:  This is a curriculum I highly recommend that you take a look at.  I loved the concept of how it presented teaching history.  Great to use if you have multiple ages you are trying to teach.  Click here to see samples and a table of contents for this guide.
The important information: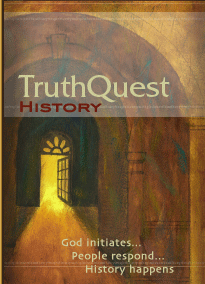 TruthQuest History-The Middle Ages
Order from: TruthQuest History
Price: $24.95
PDF Price: $19.95
To read other TOS Crew reviews of this product click here.
Disclosure/Disclaimer:  I received the above product free of charge for review purposes.  I am only expected to give an honest review.