Dive into Your Imagination DVD and Educator Guide: A TOS Review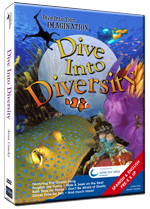 Sacha's<25: An amazing 44 minute narrated DVD and educator guide which takes you to the depths of the ocean to explore all of the diverse sea life.
Home in the Trenches Product Rating (out of 10 stars)
Is it worth our time?  10 stars
Did it help us learn?  10 stars
Is it worth the money?  10 stars (for the DVD)
Is it useful to me? 10 stars
Practicality-  10 stars
Quality-  10 stars
Kid Rating-  10 stars
 From Annie Crawley's Website:
Dive Into Diversity teaches children about all the variety of life under the sea and how animals rely upon one another for survival. Take a ride to a depth of 1500 feet in the deep sea with a submarine pilot! Find out what happens on the reef at NIGHT. Learn what eating ice cream and brushing your teeth have in common. Why do crabs have claws? What can grow three feet in just one day? You and your children will be entertained while learning about the sea just like the first two DVD's in the series, "What Makes A Fish, A Fish?" and "Who Lives In The Sea?"
Now educators can use this revolutionary program combining ocean literacy standards with science, math, literacy, social studies, art, character education while adding a special behavior component in which students use imagination play to become scuba divers, scientists, submarine pilots, explorers, and so much more. The Dive Into Your Imagination Educator Guides combined with the award winning DVDS, and soon to be released books and ibooks will engage your students while they read, watch, listen, collaborate, and do.
Who Lives in the Sea Educator Guides are available in two age-group versions. Each educator guide covers eight chapters with 6-7 activity station per chapter aligned with common core and next generation standards. As your students explore amazing vertebrate and invertebrate animals in kelp forests, on night dives, in the deep sea, and on coral reefs, they will learn literacy, science, math, geography and more. There are more than 150 extension ideas to keep your imagination flowing!
About Annie Crawley:
Originally from Chicago and trained as a photo and broadcast journalist, Annie Crawley spent the past two decades living and working around the world.  After learning to scuba dive and sail, she became a PADI Master Scuba Diving Instructor and a 100 ton US Coast Guard Boat Captain.  She was named an SSI 5000 Platinum Pro Diver and inducted into the Women Divers Hall of Fame in 2010.  Annie Crawley specializes in the Underwater Realm as an underwater photographer, filmmaker, field biologist and expert.  As a producer, Annie Crawley created an award winning series of children's ocean books, DVDs and lesson plans after being awarded four grants from the Save Our Seas Foundation.  She was also responsible for single-handedly producing, shooting, and editing a series of programs taken on the SEAPLEX expedition with Project Kaisei in the Great Pacific Garbage Patch. Because of her success following her dreams, Annie Crawley relates the lessons she learned growing up and traveling in a way that will inspire any audience to go beyond what they believe they are capable. While creating a successful business, Dive Into Your Imagination, Annie Crawley, aka Ocean Annie, continues to travel and document the world focusing on life in our Ocean.  She is uniquely qualified to speak about obtaining success by taking risks, living your dreams and creating your greatest life.
Our Experience:
We were given the Dive into Diversity DVD and educator guide to review.  WOW!  WE loved the DVD.  Packed with amazing video of underwater life that drew our whole family into watching it!  This is a must have product (whether or not you homeschool)!  Don't wait until you might be studying sea life to get this!
The narration on the DVD is soothing, not overly scientific, and leaves you with a character message at the same time.  It really is just a joy to watch! I was amazed at all of what God has created that we can't even see on a day to day basis!  While this is not produced with a Christian message I didn't find anything regarding evolution etc.  The last line on the DVD is "So let's dive into the ocean of our imagination and learn to accept one another, no matter what our color, or our style.  Just like the animals of the sea, we all need to respect one another, and our diversity."
I spent a lot of time reading through the educator guides for this DVD.  They are divided PreK-K and Grades 1-3.  I mainly looked at the PreK-K guide.  While we didn't have time to do any of the activities yet I have a few picked out to do over the summer with the girls and I am sure the older ones will want to join in as well.  Who wouldn't want to paint with glow in the dark paint?
Here is a sample video segment from one of her DVDs:
What I liked:
Amazing photography/videography on the DVD.
I turned it on for my 3 and 5 year olds to watch and the whole family ended up watching the DVD…and even asking to play segments over and over.
The educator guides were written for a school classroom setting….they are the most complete guides I have ever seen.  Loaded with questions to ask your students before you study the DVD segments, vocabulary, book suggestions, coloring pages, games, and activities to incorporate what they learned on the DVD and so much more.  These will definitely impart a love of the ocean and everything that lives in it to your students!
What I didn't like:
The educator guides are written for a school setting….not a big deal but wanted you to know.  They are amazing and it isn't hard to adapt for a homeschool setting.
To sum it up: Wow, the DVD was amazing and should be in every family's DVD collection.  And right now Annie Crawley is offering the Educator Guide  FREE with the purchase of the corresponding DVD!  This is so kind of her.  They are retailing for $69.95. See below for information on how to take advantage of this great offer.
The important information: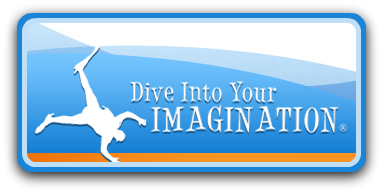 Dive into Your Imagination DVD's and Educator Guides
Order from: http://www.diveintoyourimagination.com/
Price: free shipping for May and June-mention my review with TOS Homeschool Crew
Dive into Diversity DVD-$19.95
PDF of Educator Guide-$69.95
The guides are available as a printed version for $299 (for the whole set of them) or as individual PDFs for $69.95. As a special for the Homeschool Crew and The Old Schoolhouse Magazine and followers Annie Crawley of Dive Into Your Imagination, she will gift you a set of PDFs with purchase of the DVDs. When you place your DVD order, just let her know in the notes that you are a Homeschool Parent!
To read other TOS Crew reviews of this product click here.
Disclosure/Disclaimer:  I received the above product free of charge for review purposes.  I am only expected to give an honest review.