Go Science from Library and Educational Services: A TOS Review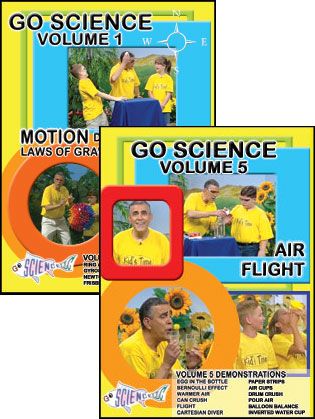 Sacha's<25: These DVD's (6 in the series) demonstrate many different science principles in a kid friendly way from a Christian perspective.
Home in the Trenches Product Rating (out of 10 stars)
Is it worth our time? 6  stars
Did it help us learn? 6 stars
Is it worth the money? 5 stars
Is it useful to me? 5 stars
Practicality-  6 stars
Quality- 6 stars
Kid Rating- 5  stars
We recieved 2 videos for review. We chose "Magnetism, Electricity, Engineering Design" as well as "Chemistry, States of Matter and Life Sciences" from a set of 6 DVDs titled GO Science! from Library and Educational Services.  If you aren't familiar with Library and Educational Services you simply must go and check out the website.  They offer incredible prices all on all kinds of items which homeschoolers can use everyday.  I have purchased books and audios from them in the past. They describe themselves as:
A Wholesale Supplier of Wholesome, Educational Books, DVDs, CDs, and more
For over thirty years, 
LES has been committed to excellence in both our customer service and our product selection. 

With our variety of Christian, wholesome, and educational DVDs, CDs, books, games, and more—PLUS our personal, superior customer service, we are confident that you will return to LES again and again!
(No frustrating automated answering system when you call—just our friendly, helpful staff waiting to answer your questions!)
Before I go into the items we were given to review I must mention that the Your Story Hour CD's are excellent and that they have the best price around.  We own 3 volumes of the Bible stories but they also have ones on historical figures.  These are dramatized audio stories which we just love to listen to in the car.
Sorry for the digression, but I would be doing you a disservice if I didn't tell you about them!
Back to the GO Science videos:
Even kids who claim an aversion to science will be engaged by the high-energy science demonstrations of Ben Roy! Ben teaches science methods at the University of Tennessee at Chattanooga and is the former director of a science program on television. With this expertise, Ben captivates, motivates, and inspires students to be excited about science, while providing effective instruction based on science phenomena. Each spectacular demonstration of physical or chemical science has a spiritual application and points to our Creator!
There are 6 titles in this series:
Volume 1-Motion and the Laws of Gravity
Volume 2-Simple Machines, Sound, Weather
Volume 3-Magnetism, Electricity, Engineering, and Design
Volume 4-Chemistry, States of Matter, Life Sciences
Volume 5-Air, Flight
Volume 6-Water, Space, Solar System
Volume 3 includes demonstrations on:
Monster Magnets
A/C Electromagnet
D/C Ellecromagnet
Making a Compass
Static Electricity
Light Bulb
Jacob's Ladder
Conductivity
Solar Energy
Tesla Coil
Color
Cut Paper Halves
Heat Engine
Plastic Pre Forms
Each demonstration ranges in time from 3 to 6 minutes.
Here's a sample of one of the demonstrations from Volume 3:
Volume 4 includes these demonstrations:
Chemical Luminecence
Exploding Bottle
Exploding Balloons
Flash Paper
pH
Root Beer Float
Liquid Nitrogen
Single Cell
Optical Illusion
Lycopodium Powder
Camouflage
What I liked:
They come from a Christian perspective.
What I didn't like:
They seem a little "homemade."  The video segments were originally made for Christian TV, and they seem a little, well… "repackaged". Unfortunately, the sound levels change from one experiment to the other. Also, every segment starts out the same way because they were never meant to be watched back to back….originally airing on different shows.
I must mention it….My husband said these videos reminded him of Barney!  Ben Roy is really happy and excited about teaching science but it is a bit over the top.  It didn't bother my 3 and 5 year olds, but my 8, 10 and 12 year olds thought he seemed a bit "cheesy".
The explanations did not seem very in depth (nor the tie ins to God).  I would really recommend these for a 6-8 year old.  My 12 year old was explaining what was happening and why before Ben Roy got to some of the explanations!
These aren't necessarily experiments you can do at home.  It just depends which demonstration you are watching.
To sum it up: Looking for a way to reinforce or introduce a specific topic of science to your kids, this might be a good way to do it.
The important information:
GO Science! DVDs from Library and Educational Services

Author: Ben Roy
Format: DVD
Publisher: Go Science LLC
Series: Go Science
Copyright: 2006
For Ages: 6 to 14
Order from: Library and Educational Services
Price: List Price $79.95 for all 6 DVDs Your Price:  $47.95 
Individual DVDs—List Price $14.95 Your Price:  $8.97
To read other TOS Crew reviews of this product click here.
Disclosure/Disclaimer:  I received the above product free of charge for review purposes.  I am only expected to give an honest review.