CapJaxMathFax: A TOS Review
Sacha's<25: A no-frills computer program, for 1st grade and up, to help with drilling math facts in a fun way.
Home in the Trenches Product Rating (out of 10 stars)
Is it worth our time?  9 stars
Did it help us learn?  9 stars
Is it worth the money?  7 stars
Is it useful to me?  9 stars
Practicality- 9  stars
Quality- 8 stars
Kid Rating- 9 stars
We received the downloadable version of CapJaxMathFax as a review item.  I was super excited to try this out because I know all 3 of my older kids could use more practice with their math facts.  I think it is really important that they have their math facts down so that they are able to not have to think about their facts when they get to more advanced math or even bigger math problems!  So I had my 6th, 5th and 2nd graders try out this program!  Here's a sample of what the program looks like: (You are never really on a different screen.)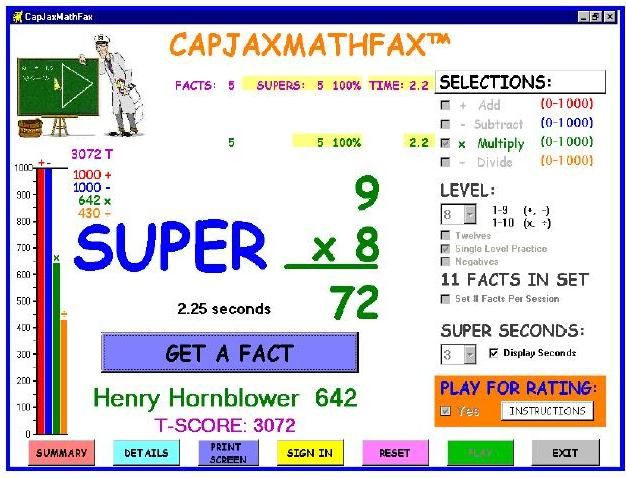 Our Experience:
It seemed like it would be easy to download and get started.  It would have been except that we had upgraded our Mac and I ended up  needing to contact Captain Jack in order to get the correct download.  He was super quick in getting back to me and very helpful when I was still having problems figuring it out.  Great customer service! 
Once we had figured out the download it was easy to get started. There was a 3 page "teachers manual" to help us understand what the different things meant.  I had each of my kids sign in individually so that it kept score.  We started with addition and moved on from there.  I know that they are good with those facts but Captain Jack said to start with those because they should be easier and the kids would not get discouraged.  My kids were whizzing through their facts and loved getting the points.  Once they got 1000 points then they could move onto subtraction facts.  The program actually drills starting with 0′s, then 1′s etc.  I had it set so that they had to answer the fact within 3 seconds in order to get their points for it being a "super".  This can be changed, but he suggests that this be the time set. As they finish different levels they earn "merit badges."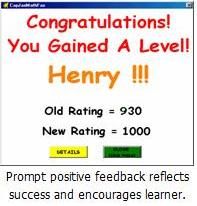 There was a little bit of competition going between my 3 kids to see who would be the farthest in the program the fastest!  I liked this and gave them a little push to want to work a few minutes each day.  It doesn't take long each day to make a good bit of headway!
From the CapJaxMathFax website:
Key Performance Features and Advantages

CapJaxMathFax™ is a computational skill development utility designed to support any larger math curriculum. It works because it is founded on the proven best elements of effective instructional technology. These features have been systematically designed into the program and account for its success and marked efficiency compared to traditional methods.Specified Performance Criteria – CapJaxMathFax defines "knowing" a math fact as getting it within three seconds on the first try. This adds precision to performance objectives and gives learners clear statements of achievement. For beginners and exceptional learners the three-second standard may be adjusted.Constructed Responses – In contrast to multiple-choice selection, learners key in responses based on existing skills and knowledge. Enabling cues and answers are available, but responses within three seconds depend on recall developed through constructive practice.Positive Reinforcement – Learners see results and response times immediately. SUPER answers are those within the specified time standard. Immediate positive feedback engages learners and reinforces their correct responses. Graduated small-step sessions assure levels of reinforcement sufficient for learning and ultimate success.Learner Rating – Three-second criteria form the basis for a patented scoring method and a rating system to reflect learner achievement. Learners start at easiest levels and improve steadily. Ratings measure progress and allow learner goal-setting. Colorful bar charts provide an on-screen display of learners' rating achievements.LPE – Learner Prompted Event. Using the keyboard or mouse the learner calls for the presentation of each fact instead of waiting passively for facts to appear. The learner controls the pace. This increases learner involvement and initiative, removes stress associated with too fast or too slow automatic fact presentation, and gives the learner "ownership" of the process.Affirmation – Learner Prompted Events allow moments of reflection following responses. Following correct responses, these moments of satisfaction and performance review are called "affirmation." Affirmation establishes correct responses more firmly in the learner's repertoire and facilitates learning of facts to come.Qualified Feedback – Learners see response times in hundredths of a second. This further qualifies performance feedback. It gives learners a clearer idea of what is required for acceptable performance, provides a degree of challenge, and increases their sense of control.

CAPPERS™ – Cappers are extra review facts presented after each rating session. They repeat the facts not answered within the SUPER interval. Cappers are not scored. They provide extra practice on less well-known facts and improve the efficiency of the learning process.

Complete Detail Log – Maintenance of a complete and detailed historical log of learner activity enables teachers to easily track student performance and identify problem areas.

Achievement Certificates – Printable certificates of session performance provide tangible evidence and rewards of learner progress.

Performance Graphs – CapJaxMathFax provides bar charts showing student achievement and line graphs depicting progress history.
What I liked:
Easy to use, lots of detail to be able to track student performance.
No frills, just learning.  While this can be a pro for some students, it may be a con for others.  It totally depends on your child and how much "play" you want them to have in a program.
My kids like it.  They enjoy doing it and I am seeing progress with just 5-10 minutes 3-5 days a week.
The performance graphs were all that my kids needed to want to keep working on their facts!
Very systematic in how it drills the facts.  You are also able to set any parameters you want your child to work on.
What I didn't like:
While I stated this as a pro, it could also be a con….this is no frills.  There is no rewarded game time etc.  Just straight fact practice. I guess it depends if you feel you need to "bribe" them with fun to get them to do work.
To sum it up: Looking for an easy way to help drill those math facts?  This would be a great program for you!  Why not try it out over the summer to keep your kids sharp!
The important information:

Order from: http://www.capjax.com/
Price: $29.95 for the downloadable version. (add $5.95 + shipping for CD version)
To read other TOS Crew reviews of this product click here.
Disclosure/Disclaimer:  I received the above product free of charge for review purposes.  I am only expected to give an honest review.