Homeschool Spanish Academy: A Schoolhouse Crew Review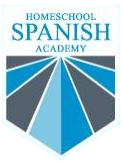 Sacha's<25: An online Spanish program designed for personalized lessons with a native, Spanish speaking teacher for ages 5-adult.
Home in the Trenches Product Rating (out of 10 stars)
Is it worth our time?  10 stars
Did it help us learn?  10 stars
Is it worth the money?  10 stars
Is it useful to me?  10 stars
Practicality-  10 stars
Quality- 9  stars
Kid Rating-  10 stars
Our Experience:
We have tried multiple Spanish programs over the years with my kids and had no success.  Spanish was my worst subject in college.  So how can I possibly teach it well?
Wow, we have been so blessed to do this review.  Andrew (8) has completed 4 of his 7 weeks we were given to review.  He is taking one-on-one Early Language Classes (geared for ages 5-12…they offer them for all ages up through adult).  In order to be able to do these classes you must have a computer, internet (a free speed test is done to make sure it is fast enough), speakers, microphone, and a web camera (this is very helpful).  These 25 minute classes are done on the computer with a female teacher in Guatemala.  HSA uses Skype to connect you with your teacher. In case you don't know what Skype is….it is a free service  which allows you to video chat with anyone in the world who also has a Skype account.
Scheduling the class was really easy…HSA uses Schedulicity to do all of their scheduling.  Schedulicity is a free service and they will send you reminders of when your classes are scheduled.  Once I had scheduled Andrew's first class we waited for a tech call to make sure we were set up for the class later that day.  The tech guy (also the owner of HSA) was very helpful and easy to work with.
We were asked to make sure we were at our computer 5 minutes before his first class.  His teacher would request a Skype video chat.  The first time it didn't work.  We sat and waited a few minutes and then the owner from HSA called us and told us what to do in order to get it to work.  Super simple and we were on our way!  Here is the scope and sequence of what is covered in the Early Language classes: (I have found that they will cover what your child is able to in a lesson.  It is tailored to your child.)
Andrew's first lesson was with Nora.  He covered alphabet pronunciation, fruits, animals, and then vocabulary word recognition-translating from both Spanish to English and English to Spanish.She was very encouraging to Andrew and worked to make sure he was pronouncing the words correctly. She spoke in Spanish and English saying "Muy bien" etc but she would always then say what she spoke in Spanish in English as well. The lesson involved  a quick conversation at the beginning to warm up to her and to work on general conversation in Spanish.  Then she puts on the computer screen a lesson to work through with her.  I felt the lesson was very through.  There was no homework after the first lesson.
After the 2nd lesson each week has a homework assignment.  It is emailed to me after the class.  I then have Andrew complete it and we email it back to his teacher.  She then corrects it for us.  How great it that?  I had Andrew write the answers down on the 2 pages of homework and then I scanned it in and emailed it.  However, if you don't have a scanner you could just type the answers in and email it that way.
Being picky here….the homework was a bit hard for Andrew to write on…the spaces for answers are small…not made for a 5-8 year old to fill in. Also on his 2nd assignment we found that sometimes there weren't enough answer spaces for what he was supposed to do or too few.  No big deal just not perfect.
Overall, I can't be happier with what Andrew has learned and retained.  He already has a better accent with 3 lessons than I ever had with a year of college Spanish.  The two different teachers have been so friendly and encouraging to work with! Scheduling classes has been super simple, lots of times to choose from as well as a few different instructors.  We found that the teachers are all great, but some of them are better at looking into the camera at you instead of at their desk!
Once again I want to reiterate that HSA offers all kinds Spanish lessons for all ages.  They also offer 2 on 1 classes.  I think we will be trying those out for my older 2 kids.  Saves us some money!
Here is a great 3 minute video to really give you a flavor of what HSA is like.
What I liked:
Very easy to use…even with all the technology required.
I just need to schedule classes, the rest of the teaching, assignments, and grading are done for me.
The teachers speak in both Spanish and English and are very encouraging.
Very flexible…classes are schedule weekly around your schedule…one week might be Tues at 10am and the next week might work Wed at 4:30.
Private Spanish teachers can't be found for this price!  Super inexpensive!
What I didn't like:
This was no big deal, but I thought the homework assignments could have been written in a better format for 5-8 year olds.
To sum it up: Want to learn Spanish or have your kids learn Spanish?  This is the way to go.  Homeschool Spanish Academy is offering one-on-one classes for ages 5-adult which are scheduled around you!  Personalized instruction from a native-Spanish speaking teacher….it doesn't get better than that….and it is very affordable for what you are getting!  Schedule your free trial class today!
The important information: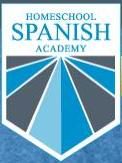 Sign up for classes at: http://homeschoolspanishacademy.com/
To read other Schoolhouse Crew reviews of this product click here.
Disclosure/Disclaimer:  I received the above product free of charge for review purposes.  I am only expected to give an honest review.