Vocabulary Spelling City.com: A Schoolhouse Crew Review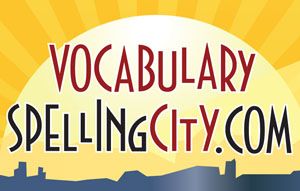 Sacha's<25: A fabulous online resource for all parents with school age kids, whether or not they are home schooled, to help improve spelling and vocabulary.
Home in the Trenches Product Rating (out of 10 stars)
Is it worth our time? 10  stars
Did it help us learn? 10 stars
Is it worth the money?  10 stars
Is it useful to me? 10 stars
Practicality- 10 stars
Quality-  -10 stars
Kid Rating- 8 stars
We were given a year premium membership to Vocabulary Spelling City.com in exchange for a review.  I was super excited to try this program out because spelling has been something that has been touch and go with us over the years.  I have tried many different programs and methods and hadn't hit on anything that we really liked.  Once I got logged into this program I could quickly see that this would be something we would stick with! With a premium membership I was able to quickly set up parent account as well as my students.  Each student has their own username and password to sign in to see their assignments.  As the parent I am able to set up individual word lists for each student using words I would like to use or simply choosing a wordlist from the many different ones available.  Check out all of the categories of lists to choose from:
I chose to have the kids work on word lists from their grade level.  These are arranged in alphabetical order.  My only complaint would be that some of the word lists have 35+ words on them.  This is a lot to work on in one week, but there is no easy way to split the list without reentering the words manually. Of course you are able to enter your own word lists as well!
This is just a portion of one of the word lists we used:
Once the word list is entered I am able to choose which activities I want my students to work on to help reinforce the vocabulary and spelling of the word list! With the premium membership I am able to choose from multiple different activities to have them work on…no more getting bored doing the same thing over and over again to learn spelling and vocabulary!
With the premium membership I am able to track my students' progress, when they last worked on an assignment, grades, and even set due dates. Can you tell I am loving this program?  It is making spelling so easy to fit into our day and to be able to keep track of their grades!
 What I liked:
We have always had a hard time fitting spelling into our schedules.  Now with 4 students it is nearly impossible…enter Vocabulary Spelling City and no more missed Spelling.  Once the lists are set up they are ready to go!
Love all the sample word lists to choose from!
With the premium membership there are so many different choices of activities to reinforce vocabulary and spelling….something for everyone!
Cost is minimal.  To be able to have 5 students working on spelling of rust $29.99 for a year is great!
What I didn't like:
Joy was doing a lesson where she had to write sentences using the words from her list.  She stopped part way through and saved it.  However, it didn't save.  Makes for an unhappy student.
There is a bit of a learning curve of finding your way around the site and figuring out what everything is.  It wasn't too bad, but I thought I would sit down and get them all started right away.  Nope, took me about an hour of clicking around to figure some things out.
To sum it up: Every parent should do themselves a favor and at least sign up for the free basic membership (or just take the plunge and do the premium!—you won't be sorry). I am sure that you will find it beneficial for your children and an asset to their education whether they are in public school or are being home schooled!
The important information:
Order from: http://www.spellingcity.com/
Price: Premium membership includes up to 5 students per year for just $29.99
To read other Schoolhouse Crew reviews of this product click here.
Disclosure/Disclaimer:  I received the above product free of charge for review purposes.  I am only expected to give an honest review.