Sacha's<25: A wonderful science curriculum focusing on the study of Land Animals which uses a variety of methods to instill information and the joy of learning.
Home in the Trenches Product Rating (out of 10 stars)
Is it worth our time?  10 stars
Did it help us learn? 10 stars
Is it worth the money? 10 stars
Is it useful to me? 10 stars
Practicality- 10 stars
Quality- 10 stars
Kid Rating- 10 stars
We received Exploring Creation with Zoology 3: Land Animals of the Sixth Day Textbook and Regular Notebooking Journal for review from  Apologia Educational Ministries.  These products come from their Young Explorers Series for elementary grade students suggested for K-6th grade use. This third book in the zoology series takes students on a safari through jungles, deserts, forests, farms, and even their own backyard to explore, examine and enjoy the enchanting creatures God designed to inhabit the terrain.
The Notebooking Journal includes a variety of activities including full-color mini-books, additional fun experiments, crosswords, and supplementary materials, such as animal stickers for the Map It activities.  We have found that these notebooking journals really add an extra layer of learning and retention to the textbooks.  We have used these notebooking journals in the past for other Apologia science books and the kids have loved them. There is such a wide variety of activities to really hold their attention and keep them from getting bored doing the same thing over and over.
These journals also include a suggested schedule to help you know what to do when.  We found the schedule to be helpful in knowing what to accomplish on a weekly/bi-weekly schedule.  However, all the reading and work was divided over 2 days each week.  We found that to be a lot of work at times.  We liked to know what to get done in a week but we usually spread it out over 3-4 days during the week.  You could probably do it over 2 with upper elementary students but my kindergartener found it really hard to still and focus for that long in just 2 sessions.
Above Andrew working on a mini book.  We tended to do most of our science reading and journal work on our couch or floor in the family room.  The day this picture was taken my 2 little girls had built a huge fort in the room…which is why you see the white sheet behind him!
The regular notebooking journal is suggested for students who are able to write, take notes and are upper elementary level.  The Junior version of the journal includes age appropriate activities for your child including coloring pages, easy and fun science experiments, full-color mini-books, easier vocabulary exercises, and supplementary materials, such as animal stickers for the Map It activities.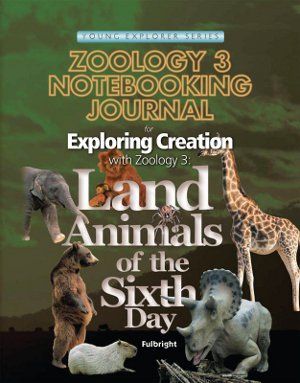 We would usually read the textbook 2-4 times a week.  It's great that we can be that flexible with it!  I would read until I felt the kids were getting a bit antsy or end when there seemed to be a good place to stop.  Most of the time my kindergartener would beg that I just read a little bit more…"one more section, please?"  We would plan to have the chapter done during the 2 week period.
After we read a bit in the book my 3rd grader would do some work in the notebooking journal.  I chose the upper elementary level for him.  He is a really good writer and has the attention span for some of the harder activities and note taking that is involved in this journal.  He used the early elementary one last year when we did Apologia's Human Anatomy book.  (Can you tell we love Apologia's science curriculum?  Well in case you can't…let me tell you that we have done Botany, Astronomy, Human Anatomy and now are working through Zoology 3!)  We highly recommend them to everyone we meet!
This science curriculum might be different than what you are used to!  Apologia really gives parents and their children time to bond.  Sit on the couch and spend time cuddling and reading.  Once you are done there are suggested questions in the text to have your children narrate back to you about what you just read together.  Once you do that you can work together on some of the notebooking journal activities or you might just send them off to see what they can do by themselves in the journal.  I think it is a great way to build some independence in your student once they are upper elementary age.
We were easily able to cover a chapter every 2 weeks.  I have to share one of the cutest/most memorable things that happened while we were learning about bears. Faith (6) was over at a friend's house and she narrated a story to a 12 year old who wrote it all down for her.  Then Faith illustrated the book.  In the middle of the story there is a portion about bears.  We had just read this information earlier in the week about what to do and not do when you find a bear and what might happen if you feed it.  I thought it was so cute that it ended up in her story!  Here's a photo of the page from her story:
What I liked:
It is written in a conversational style…very interesting to read.
It is super flexible in how you use it and how much you cover in a given sitting.
We have been able to use this curriculum with multiple ages.  My 3 year old loves to sit in and listen with my kindergartener and 3rd grader.  In fact, my 6th and 7th graders listen in every time as well!
We really like the notebooking journals and highly suggest you purchase one for each of your children using the curriculum.  We have done other books in the series without the journals (simply because they didn't exist at the time).  We really prefer doing the journals with the textbooks!!!!!
This curriculum uses different ways to learn and covers more than just "science".  The Map-It portion really helps to cover basic geography.
What I didn't like:
I really can't think of anything.  I guess it might bother some that it is scheduled out for 24 weeks.  This seems to be a weird amount of time since most of us do 36 week school years.  Hard to complete another full book in the series in another 12 weeks.
I would have liked the Notebooking Journal to come with a wall map for the Map-It portion.  I wasn't sure how big of a map I would need to get to put the animal stickers in the right places.
To sum it up: If you are looking for a curriculum that spends 24 weeks looking in depth at Land Animals (or another topic Apologia covers) this is a wonderful curriculum.  You will get lots of cuddle time and great learning with your children.  We HIGHLY recommend this to you!  Head on over the Apologia's Website to look at samples of this curriculum!
The important information:

Exploring Creation with Zoology 3: Land Animals of the Sixth Day
Price: 
Textbook–$39.00
Regular Notebooking Journal–$24.00
Junior Notebooking Journal–$24.00
Order from: Apologia Educational Ministries
To read other Schoolhouse Crew reviews of this product click here. 
Disclosure/Disclaimer:  I received the above product free of charge through the Schoolhouse REview Crew in exchange for my honest review. I was not required to write a positive review nor was I compensated in any other way.  All opinions I have expressed are my own or those of my family.  I am disclosing this in accordance with FTC Regulations.