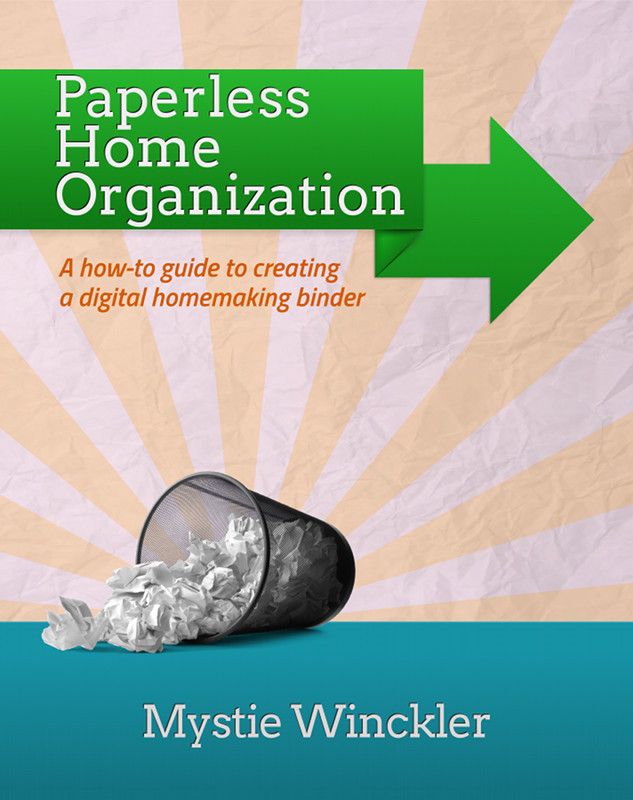 Sacha's<25: Paperless Home Organization is an ebook which helps walk you through the steps of using a few online programs/apps to streamline your household management system.
Home in the Trenches Product Rating (out of 10 stars)
Is it worth our time? 10 stars
Did it help us learn? 10 stars
Is it worth the money? 10 stars
Is it useful to me?10  stars
Practicality- 10 stars
Quality-10 stars
I received 3 ebooks from  Simplified Pantry for review. The ebook that I chose to concentrate on was Paperless Home Organization. I am always looking for ways to organize my life.  A few months ago I felt like my head was constantly full and I couldn't ever concentrate on one thing at a time. I was frustrated a lot with this.  I was very excited when the opportunity came up to try out Mystie Winkler's system that she writes about in Paperless Home Organization.
Mystie Winkler has 5 children and also home schools.  She was looking for a way to streamline her paper organization as well as her email, calendar, to do lists and home management binder, etc.  What came out of this was her take on the system called Getting Things Done by David Allen.  I absolutely loved her second sentence in the Preface.  "Organization is more like laundry and dishes than like a craft project:it is never complete. It is like swimming.  You are either treading water or slowly sinking; progress is getting yourself back to the surface before you drown, not arriving at a destination.  However, treading water at least becomes easier the longer you do it…." I have always looked at organization as a thing you reach…a destination.  Either I am there or I am not.  What a freeing idea for me! 

My Experience:
So the first thing I did was download the PDF onto my iPad.  I enjoyed reading it on my iPad in iBooks.  However, the hyperlinks didn't work in that program. It wasn't really a big deal.  I have been told by fellow crewmates that they do work if you read it on your computer.  Paperless Home Organization is  75 pages long.  I actually read it straight through the first time just to get an idea of what I was jumping into.  A lot of the book is actually teaching you step by step how to set up Gmail, Google calendar, Remember the Milk and Evernote. I am not going to go into explaining each of these programs in this review.
Once I had made it through the book once I started implementing her system.  I started with Evernote!
I blogged about Evernote almost 2 years ago.  I thought I knew how to use it well.  I was wrong!  This book really helped me to see how to set up Evernote more effectively.  Thanks to Mystie!  Evernote is where you store everything you would put into a home management notebook/binder. It is where you keep your daily todo lists, chore lists, recipes, meal planning, school planning, websites to look at, etc.
I spent a whole evening re-doing my Evernote.  Totally worth the time spent.  I never had totally understood the notebooks, notes and tags and how to use them.  She explains Evernote to be like a Binder.  Stacks are binders, Notebooks are like tabbed sections in your binder, and notes are the individual papers within each section. Here is a screenshot of my Evernote stacks on my iPad:
Here is a screen shot of the notebooks within my Management:Home binder:
I am really glad that Mystie explained how to set up Remember the Milk.  I would have been a little bit lost without her help.  She easily walked me through how to set it up and use it.  I have it online on my computer, as well as my ipad and iphone.  It is a free application but if you want immediate syncing between devices it is $25 a year.  I lasted about 2 days before I went to premium.  I really go between devices all day long!
I love that you can categorize tasks by type as well as when you want to complete them.  Anytime I have something floating around in my head I quickly try to get it into RTM. Here is a screen shot of my total task list in RTM:
It has been so great to have all of the information I need at my fingertips at any time even when I'm out of town and across the country or in town at the grocery store!
I chose to stick with iCal and Apple mail since I have been using these a long time.  I actually emailed Mystie to ask her if there was a benefit to switching to Gmail and Google calendar.  She said no need to switch since they are what I am used to and there wasn't a huge difference at what they can do.
I loved all of the ideas she gave and how to set up the systems. The hardest part for the whole thing has been my trying to break my old habits.  I was so hoping that I would spend a few hours setting everything up and be organized all of a sudden. However, that hasn't been the case nor should I have expected it to be. It takes some time to break how you have been doing things for so long to change them. It will be awesome when I have been able to do that.
What I liked:
Written by a homeschooling mom, she gets homeschooling moms and what our lives look like.

Finally I have found something that closely resembles my Home Management Binder that I had a few years ago.
She walks you through step by step how to set things up. She doesn't just tell you what programs she uses.
I am slowly treading water now, and it is getting easier : )
What I didn't like:
Don't expect to read this book and be organized, it takes time…No fault of the book, she isn't a miracle worker!
Simplified Dinners ebook

I want to quickly mention this product of Mystie's as well.  I read this book too, but decided that I should only tackle one major thing at a time in my life.
Simplified Pantry is all about encouraging homestyle cooking with basic ingredients. It is possible to cook good, healthy food without a pantry full of specialized ingredients, and it is possible to make easy dinners without shortcut, preprepared products. Simplified Dinners (and the gluten- and dairy-free edition!), enables anyone to transition toward home-prepared, real, whole foods cooking—even those less confident in the kitchen.Simplified Dinners helps keep dinner streamlined while allowing flexibility.
While reading this ebook I really felt affirmed!  The reason being is that within the last 6 months I have been grocery shopping and meal planning a little bit like this book recommends.  The premise is that if you have a stocked pantry (follow her pantry list) that you will have enough food on hand to make plenty of the recipes within her book.
 I was a little intimidated with some of the recipes…not because they are complicated…they look super easy.  However, many of her recipes don't have specific measurements.  Now this is how I cook a lot of the time, but when I am trying a new recipe for the first time I like measurements!  Now that I am back from vacation and have a less hectic schedule I am looking forward to trying out her recipes.  They look yummy and simple!  Click over here to download a sample!
Here is a sample page of Slow-Cooker Roasts Recipes:
To sum it up: I highly recommend these products to you.  I think anyone can glean some great ideas from any of these products.  Don't delay in purchasing them.  Below is a 30% discount code you can use on any or all of her 3 ebooks.  But don't delay…it is only valid until June 3rd.
The important information:


Order from:  Simplified Pantry (http://www.simplifiedpantry.com/)
Price: Simplified Dinners-$12.99
Simplified Dinners Gluten Free/Dairy Free-$12.99
Paperless Home Organization-$3.99
Please note: Mystie is offering 30% off to my readers when you enter TOS2013 at checkout. That discount will work on any or all of her eBooks, from May 20 through June 3rd.
Click to read more reviews from the Schoolhouse Review Crew.