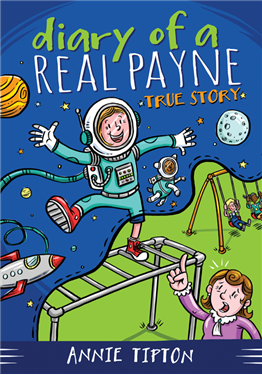 Sacha's<25: Follow EJ Payne in her crazy adventures through her diary entries as well as the storyline which follows each entry!  You are in for a real treat and some huge belly laughs.

Home in the Trenches Product Rating (out of 10 stars)
Is it worth our time?10  stars
Is it worth the money?10  stars
Is it useful to me? 10 stars
Practicality- 10 stars
Quality-10  stars
Kid Rating-10  stars
Looking for a great novel for kids with a Christian world view? Look no further!  We received a copy of Diary of a Real Payne Book 1: True Story from  Barbour Publishing for review. This book is written by author Annie Tipton.
I decided to use it as a read aloud for my kids…Everyone loved listening to Emma Jean Payne's antics, from my 14 year old boy all the way down to my 4 year old girl!  I would recommend this for a general age range of 6-12 year olds.  Of course, most 6 year olds would not be able to read it by themselves at 192 pages, but they will love hearing it read to them.  

Emma Jean is the typical 4th grade girl living in Spooner, Wisconsin.  What makes this book so great are her not so typical imaginary situations she gets herself into on a regular basis.  She imagines she is a race car driver while shopping for school supplies, a spy at her church's fall festival, and she actually helps to save Christmas for a family in her neighborhood!
I loved the Christian messages woven through out the story. Simple things like knowing you are made in God's image to serving those around you are flawlessly integrated into the storyline.  It never felt forced or awkward!  My kids loved the book for the funny things EJ always got herself into!  We read this book in the afternoons after our history lesson.  Never a day went by that we only read one chapter. They begged for another one.  There were a few evenings that they begged for me to read another one even though our school day was finished!
They really didn't want this book to end though!  My 6 year old didn't want us to finish the book.  I asked her why and her response was, "What will we do when it is over? There isn't another book to read about more EJ!"  Very cute.  In fact, there will be another EJ book out soon, just not soon enough for my kids!  Coming March 2014 Book 2 – Church Camp Chaos will be available!  We can't wait!!!!
What I liked:
Christian messages woven into the storyline.
We loved reading about EJ's runaway imagination.
Easy to read, perfect for a read aloud….would also be great for a 3rd-6th grade girl to read by herself!
What I didn't like:
It was a little hard to know how to tell my kids we were transitioning between her imagination and what was happening in real life.  The imaginary storyline is in italics, so I ended up having to tell them this every time we switched between imagination and real life.  This wouldn't be a problem if you were reading the story by yourself!
This isn't really a big deal but I sometimes didn't like some of the journal entries or the interactions between EJ and her younger brother.  While they got along at times, there were times that I didn't feel they were exemplifying a Christ-like attitude toward each other.  While this was pretty typical behavior in many families (and if they got along like angels all the time it wouldn't be realistic) I still wasn't thrilled with it.  For example in one journal entry EJ is talking about mittens attached to a string that goes through your sleeves and she comments "Babies like him wear mittens like that."  Her brother is in Kindergarten, I just felt this was planting ideas in my kids heads that weren't necessarily positive.
To sum it up: WE highly recommend this book to your family!  We loved it as a read aloud to enjoy laughing together while we learned some great lessons about serving others.
The important information:

Diary of a Real Payne Book 1: True Story
Order from: Barbour Publishing
Price: $5.99   Sale $4.49
Click to read more reviews from the Schoolhouse Review Crew.