Sacha's<25: A unique one minute mystery book recommended for ages 8-12 which has the reader use their science knowledge and critical thinking skills to solve the 65 mysteries.
Home in the Trenches Product Rating (out of 10 stars)
Is it worth our time? 9 stars
Did it help us learn? 9 stars
Is it worth the money? 9 stars
Is it useful to me? 9 stars
Practicality-10  stars
Quality- 9 stars
Kid Rating- 10 stars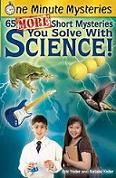 We received One Minute Mysteries: 65 More Short Mysteries You Solve With Science! from Science Naturally to review.  I was super excited to get to review this since I loved listening to short mystery stories as a kid and trying to figure them out!  I was expecting that these would be the "who dunnit" type stories that I had heard as a kid.  I don't know if you are familiar with those kind but these were not that.  However, they are really great too!
Here is an explanation from their website:
These mysteries have a clever twist—you have to be a super sleuth, tapping into your science wisdom and critical thinking skills to solve them. Each story takes just one minute to read and challenges your knowledge in a variety of science disciplines.
I handed this book over to my kids to take a look at.  I had to laugh because when I went searching for the book about a week later my 13 year old son had taken it to read.  He was choosing to read these minute mysteries at night before going to bed instead of some of the other stuff he had been reading.  When I asked my kids if they liked it the response I got was, "Matthew wouldn't let us have a turn with the book!"  
Click here to read 3 sample stories and see why my kids didn't want to share the book.
When Joy (11) finally got a chance to read the book she really enjoyed it.  She felt she wasn't very good at solving the mysteries but she loved reading them.
These one page mysteries with the answer solution following on the backside of each page are written by the father daughter team of Eric and Natalie Yoder.  This book is the second Science Mystery book they have written and they have also written some One Minute Math Mysteries.
What I liked:
Educational aspect…they are learning scientific principles while having fun reading and solving mysteries.

The stories are short and don't take a lot of time to read.
These would be great to read out loud and discuss with your kids…one story each day…good luck at keeping it to just one story : )
These are real life type mysteries which are solved by applying science…how would bugs end up inside a closed bag of apples, how to tell raw from boiled eggs, why some mornings are so much cooler than others, etc.
What I didn't like:
Nothing to say here…we were really happy with this product!
To sum it up: This book and the others that this father daughter team have written would be just perfect for incorporating learning into your summer, without your kids even realizing it!  This is a really fun book to read with your kids or to have them read by themselves.  Highly recommended and check out below for a special offer on purchasing some of their other books as well!
The important information:
One Minute Mysteries: 65 More Short Mysteries You Solve With Science!
Eric Yoder and Natalie Yoder, January 2013
Ages 8-12, 8.5" x 5.5", 180 pages,
Paperback ISBN 10: 1-9384920-0-5
E-Book ISBN 10: 1-9384920-1-3
Order from: Science Naturally
Price: $9.95
Please note this special coupon code—enter 3SPEC to purchase any 3 books on the website for $19.95 plus $2.95 shipping. (a $12.90 savings)
Click to read more reviews from the Schoolhouse Review Crew.