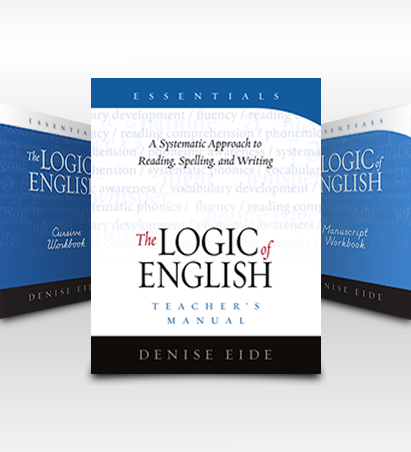 Sacha's<25:  A complete program for Reading, Spelling, Grammar and Writing geared for ages 7 and up, including learners beginning to read and older children needing spelling help and all in-between.
Home in the Trenches Product Rating (out of 10 stars)
Is it worth our time? 8 stars
Did it help us learn? 8 stars
Is it worth the money? 7 stars
Is it useful to me? 7 stars
Practicality- 6 stars
Quality- 9 stars
Kid Rating- 7 stars
We received Essentials from Logic of English to review with my kiddos.  Due to the nature of this curriculum it is able to be used in a variety of ways with different ages and different learning needs.  For example I have one child Faith (6) who is a beginning reader.  She knows all of her letter sounds as well as about 10 phonograms.  I also have Matthew (13) who is a struggling speller.  This program can be used with both of them.
What we received:
Phonogram and Spelling Game Set
Our Experience:
Yes, this is a lot of curriculum!  To be honest it was very overwhelming opening a big box with so much in it and knowing that we needed to figure out all about it.  And I still sort of feel that way.  There is so much to this curriculum and can be used in a variety of ways with different children at different levels that I still am overwhelmed with it all.  With that being said, I think that it has a lot of information and is a quality program.  Part of my being overwhelmed may be that I was trying to use the program 2 different ways at the same time.  My oldest needs spelling help, My 1st grader and I were mainly going to use the program for phonics instruction.  Because the program can be used a variety of ways the teacher's manual has a few different plans laid out near the beginning to help you know how to use the lessons for your specific needs.  You can see more information here about this and see some sample schedules.
I would highly suggest not starting out trying to do 2 levels at the same time.  This added to my confusing.  It is suggested that children needing spelling help do one lesson a day, whereas my beginning reader would be doing 1 lesson a week.  I just found it to be too much while trying to learn and understand  how it works at one time.    I ended up  emailing back and forth with someone at the company trying to figure out if I was using everything correctly.  I still just didn't feel comfortable with the flow of things.  I know that starting a new curriculum can be challenging and take a few weeks to get into the groove of things.  Problem was I still never felt like I found my groove.  Finally, I messaged back and forth with another mom who is using the program with multiple levels of children as well as speaking by phone with a wonderful lady from the company.  Much to my excitement I found that I don't have to be trying to do everything in the lessons with each child.  Also, I found that there are advanced spelling lists for older children on their website.  I am not sure why this wasn't mentioned in the book (or just have the spelling lists in the book!).  These lists are perfect for the older child. Finally I feel like this spelling program might just be what we need to get Matthew over the hump!
Before finally getting to the lesson instruction the book has lots of introductory information before you get started…70 pages worth.  This is a lot to take in before you ever start teaching a lesson.  ( I had a hard time remembering it all and had to flip back plenty of times to see what was in this section regarding the portions of the lessons.
One of the favorite portions of the lessons was game time.  There is a separate Phonogram and Spelling Game Set, which has plenty of games to reinforce the lessons. Matthew was willing to play this game  (The Dragon Game)with his younger sister.  This was like old maid but matching phonogram sets.  Faith really liked this game!
In this photo below I am quizzing the kiddos on the phonogram sounds that they have learned up to that point in the curriculum.
You can see this is the Teacher's Manual as well as phonogram cards.  These cards are introduce in a logical way throughout the course.  I really liked the spacing of this.  However, they are not introduced in the same order as other phonics based reading curricula that we have used.  Not a big deal, but do not think that you can switch over and that the introduction of these will line up with what you have been doing.  Great thing is that you can go at the pace you need to with your student.  This is where I was hung up….normally I don't get stressed about this but I really wanted to try to follow the curriculum the way that they advised.  I found it best to just work on Phonograms and spelling with Faith….we didn't work much on grammar at this point.  We talked about nouns and verbs…near the end of the book you would be having your student labeling all kinds of parts of speech….we do this around 4th and 5th grade….I think this would be very overwhelming to do with a first grader….she doesn't need to know objects of prepositions just yet.   Presenting the grammar interspersed daily with the other portions of the curriculum just doesn't make sense to me.  I wish that the book had this laid out differently, and that it was all together in the back.  Then we could easily go through the grammar portion at our own pace without having to flip back and forth through the lessons.
Anyways, I digress.  This next photo is the workbook that Faith used to record phonogram work, spelling lists etc that we worked.  There was more than enough to do in each lesson.   Here is some phonogram work…
This is her spelling list for the 3rd lesson.  You will notice that the teacher's manual has her underline the phonograms that we have worked on….
She looks like she is having fun here….
Here we are working on syllables….I even learned a lot about spelling rules! I was taught whole language in school so learning all this phonics stuff has been interesting….yes, I have taught 3 other children to read with phonics but this is the first phonics program that covers them in such depth.
I really enjoyed this portion of the program and we will be working through it with my older kids especially.  Did you know that there is a long vowel sound at the end of syllables?  I didn't!  It is Spelling Rule #4.
What I liked:
The is a one stop shop for everything related to English!  You really wouldn't need anything else to teach your children grammar, spelling, phonics/reading, writing.

The game book offers plenty of suggestions to help reinforce and learn all things phonograms.  Faith enjoyed playing the games we had a chance to try out.
The advanced spelling lists make this a great way to teach spelling rules/phonics to older children.
This program teaches phonics in depth…more so than any other program we have used.  I really love this and loved learning the spelling rules with the kids….It makes the English language make sense…
There are downloadable versions of most of this curriculum for use by the family.  If you have more than one student this will be more economical for you! Thank you Logic of English for thinking of the larger homeschool families!!!!
What I didn't like:
Trying to figure out how to use this curriculum was challenging.  I think with some better instructions I would have been able to figure it out more quickly.  

The layout of the teacher's manual.  I think it would have been better to have separate sections for reading/phonics, spelling and grammar.
The student workbook looks like work…it is all black and white…no graphics.  This can be good or bad depending on how your student learns.
We also were able to try out the Phonograms App. This app is a great addition to the Logic of English program.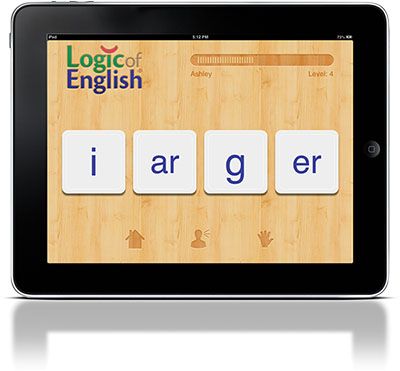 This app verbally says a phonogram and then the student has to click on the correct match.  Very simple to use and a great way to reinforce the learning of the program.  At $2.99 I highly recommend it! It can be found in the iTunes store.  I like that it gives another method to learning…my kids love being able to do anything on the iPad!  It is also completely customizable to have your children work on whatever phonograms you are currently teaching them!
To sum it up: We will be continuing to use this curriculum for my kids for spelling.  I appreciated the spelling rule approach and the advanced spelling lists.  I will probably refer to this and use the phonogram games for my younger children.  Please take some time to explore their website. They have lots to offer and plenty of free resources as well!
The important information:


Order from:  Logic of English
Price: 
Essentials Student Workbook-$25
Basic Phonogram Flash Cards-$18
Phonogram and Spelling Game Set-$45
Spelling Rule Flash Cards-$15
Click to read more reviews from the Schoolhouse Review Crew. The Crew had the opportunity to review a few different curricula.