The Reading Game: A TOS Review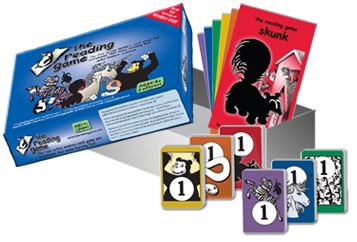 Sacha's<25: The Reading Game is a fast-action memory card game. It includes a six illustrated books. The cards & books work together to teach sight words. Ages 4+
Home in the Trenches Product Rating (out of 10 stars)
Is it worth our time?  8 stars
Did it help us learn? 8 stars
Is it worth the money? 6 stars
Is it useful to me? 7 stars
Practicality-  7 stars
Quality-  9 stars
Kid Rating-  5 stars
Faith (4 1/2 years old) was so excited when the package came in the mail with The Reading Game in it!  She could hardly wait to open it up and play it.  Are you familiar with Wordly Wise? We not only use WW… we LOVE it!
The author of WW now brings us this new memory card game played with 10 cards (5 sets of words) during each stage of the game.
The game is played with 2 players-one student and on teacher/tutor/older sibling–taking turns flipping over 2 cards and trying to find matches.  If you flip over 2 cards that match you have to say the word on the cards before you "win" them.  After playing a series of 6 "stages" or games your student will  have mastered 30 words and will be able to read the first book in the series. Here is a video to show you how the game is played.  (Please note that the card backs are in color now, see the above photo.)

It sounds simple, doesn't it?  Yes and no.  Faith really had a hard time remembering what the words were.  She was getting frustrated very quickly and would then want to quit.  We took the game very slowly and even after playing it multiple different times she still hasn't learned enough of the words to read the book.  I think that if she was a little older this would have made a big difference in how much she liked it.  She wanted to like it and would ask to play, but just got upset too easily when she couldn't remember a word and knew she wouldn't be able to read the book if she didn't know the words.  We have had the game about a month now, but she can only read maybe 15 of the words from the first set (Skunk) of cards.  We have played through the 5th stage of the game.
From The Reading Game Website:
The Reading Game is a learn-to-read program consisting of six illustrated storybooks: skunk, snake, bear, penguins, unicorn, and zebra. Each book comes with a simple word matching card game. Each game is played in six stages, each of which teaches five words.
Frequent exposure through play hard-wires these words into long-term memory. The card game requires two players, the student and a tutor. When used in classrooms and reading centers, parent volunteers or student "reading buddies" can easily be shown how to play the matching card game. By transforming rote learning into a fast paced game where there is a winner every few seconds, learning to read becomes fun.
After completing stage six of the first game, the student has a reading vocabulary of thirty words.
The first story is told using just those thirty words. It tells of a skunk without a stripe who is rejected for being different but finds acceptance among a group of cats and becomes their defender. Each subsequent game in the series adds a further thirty words for a reading vocabulary of 180 words by the time the complete series is finished. Of the twenty-five most commonly used English words, twenty-two are on that list; of the forty most commonly used English words –thirty. The multi-sensory teaching approach – through the card game play and the storybooks – works well for retention and student enjoyment.
What I liked:
The card themselves — the backs are very colorful and the fronts are very easy to read.
The books are cute & well illustrated.
When Faith would recognize a word she was so excited.
By the end of the 6 sets of cards and books children will know 180 words.
What I didn't like:
How easily frustrated Faith got playing the game…even at just 5 words a game, it was stressful to her…she was really good at making matches, just not reading them! (I think in about 6-12 months she will really like this game!)
To sum it up: I think this is a game that some kids will love and thrive with.  Some, like my own, may just get really frustrated.  It seems like a fun, low-key  way to learn sight words.
The important information: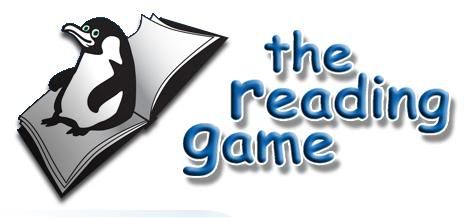 Order from: http://www.thereadinggame.com/
Price: $24.95
To read other TOS Crew reviews of this product click here.
Disclosure/Disclaimer:  I received the above product free of charge for review purposes.  I am only expected to give an honest review.