Sacha's<25: A fabulous online resource for all parents with school age kids, whether or not they are home schooled, to help improve spelling and vocabulary.
Home in the Trenches Product Rating (out of 10 stars)
Is it worth our time? 8 stars
Did it help us learn? 8 stars
Is it worth the money?9 stars
Is it useful to me?8  stars
Practicality-8  stars
Quality- 10 stars
Kid Rating- 7 stars
We received a  VocabularySpellingCity Premium Membership  from VocabularySpellingCity to review. I used this with my 4th, 7th and 8th graders. We had also received this review last year.  One of the most exciting changes is that you can now use this program on an iPad and iPhone.  This program is geared for K-12th grade students.
I would set up the lists I wanted my kids to each work on and then assign them the list and which activities I wanted them to do for the week.  I usually picked a pre-test as well as 4-5 activities and then the final test.  With a premium account you have more choices of activities as well all of your students activities are tracked and recorded!  A major bonus! In case you are wondering about other differences here is a chart showing you….
I really love all the different ways to help your child learn spelling and vocabulary, there is no reason for them to get bored with the activities!
Here's one of the many games/activities you can choose from to assign to your child.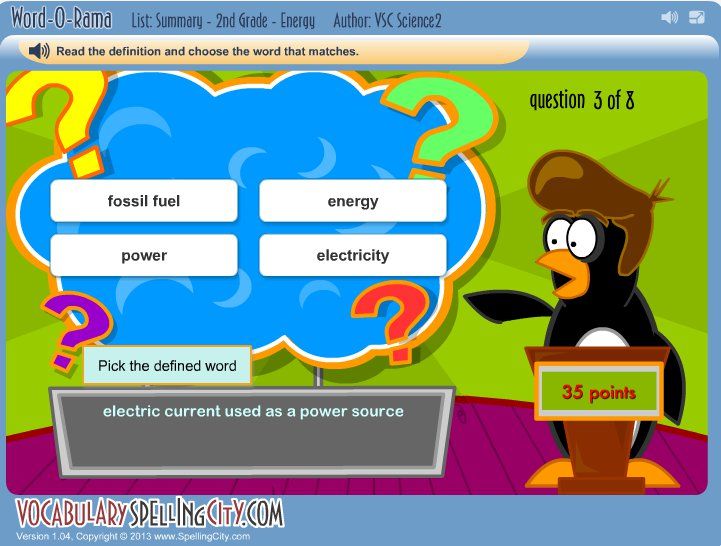 I had my own username and password to log in and get things set up for them as well as view the progress they were making during the week.  My kids each had their own log in information.  I love how it keeps track of everything for them and for me!  Great record keeping. During the week my kids would log in and do some of the activities.  I was figuring about 10 minutes a day but I found they really liked to do everything I scheduled over 1 or 2 days during the week.  It seemed to work for them, but I would think it better to schedule spelling our over a few days each week.  I usually had between 10-15 words for them to work on in a week.  With the lists you could choose from within the program some of them had up to 35 words.  This seemed to be way to many for my kids to do in a week. It made some of the activities really long. Overall, I am happy with the program and love the price!  Especially for a large family this is a great deal!
What I liked:
This program makes learning spelling words fun! There are plenty of activities to choose from, so even if your child doesn't like a specific one you have lots of choices.
I think it is great to be able to combine vocabulary with spelling! Kids aren't just having to memorize the spelling of words, you can choose activities to reinforce vocabulary development as well!
Great pricing, especially for those of us with lots of kids!
What I didn't like:
This is from last year: There is a bit of a learning curve of finding your way around the site and figuring out what everything is.  It wasn't too bad, but I thought I would sit down and get them all started right away.  Nope, took me about an hour of clicking around to figure some things out. (I wanted to reiterate this for those new to the program)
This year I tried to use our own lists.  It was easy to set them up but I had a harder time finding time to set up the lists.  I would advise trying to take some time over a weekend and set up a bunch of lists and assignments ahead of time.  I just couldn't stay ahead of my kids!
To sum it up: Every parent should do themselves a favor and at least sign up for the free basic membership (or just take the plunge and do the premium!—you won't be sorry). I am sure that you will find it beneficial for your children and an asset to their education whether they are in public school or are being home schooled!
The important information:
Order from: VocabularySpellingCity
Price: up to 5 students is $29.99 per year
Click to read more reviews from the Schoolhouse Review Crew.