Sacha's<25: Learning about Dolphins, Porpoises and Whales has never been easier or more fun with this Project Pack product from In the Hands of a Child.
Home in the Trenches Product Rating (out of 10 stars)
Is it worth our time? 8 stars
Did it help us learn? 8 stars
Is it worth the money?10  stars
Is it useful to me? 9 stars
Practicality- 9 stars
Quality- 8 stars
Kid Rating- 9 stars
We received Dolphins, Porpoises, and Whales Project Pack from In the Hands of a Child. This is geared for children in Kindergarten to 4th grade.  I chose to use it with my 4 and 6 year olds.
What is a Project Pack:
A Project Pack contains both the activities and the lesson plans or research guide needed to complete the activities.  Students aren't just reading about a topic, but "doing" along the way as well!
Read more about What Lapbooking is here.
Our Experience:
I found it very easy to download this specific product and get started.  While I don't know that I would always print out the entire Project Pack in the future I decided to do it this time.  I printed out the entire pack and bound it with my binding machine.  I found this to be an easy way to see what it was all about and to be able to flip back and forth between sections.
Other than the downloadable Project Pack there are a few other things that you need to get started:
File folders

colored paper and cardstock
tape
glue
scissors
stapler
items to color with-crayons, colored pencils or markers
Pencil
Once I had the Project Pack printed and bound it was time to get started reading and figuring out what I had to do to get started.  What I found upon opening the pages what the Table of Contents page, a Planning Guide (with a suggested 7 day schedule), a related reading page (with book suggestions to check out from the library), Instructions for the 20 Activities, How to page on making the base of the lapbook, Research guide-which gives you what to teach in each lesson, as well as the printables for each of the activities.
It is suggested that if you have a group of younger children that you cut out all the graphics ahead of time.  If I was using this with a coop group of younger elementary students I would definitely do this!  Since I was just working with my 2 girls I decided I would print out just the printable pages we needed each day to go along with the lesson.  Once we were done with that portion of the activities for the day I stored each girls papers in their own gallon sized ziplock bag.  My 4 year old just did the gluing while my 6 year old was able to do more of the cutting and gluing by herself.  While we worked on the activities I would read what they said and reinforce what we had just read in the research guide prior to starting the activity. We had the choice of using printables where your student could copy over the text for handwriting practice or everything was just printed out for you and all you did was cut, assemble and paste.  I started Faith out with copying the text but we decided it was too little for her and ended up just using the printed out option.
We chose not to do all of the vocabulary words, there were a lot of them and I didn't feel that they were necessary for my 1st grader.  However, I was glad to see that they were in there for older students.
My girls enjoyed doing the activities but they weren't begging for more.  I ended up splitting the unit up over more than just the 7 days.  I couldn't hold their attention that long to cover everything suggested for one day.
Faith loved the drawing portion of the activities.  She sat for hours (literally) drawing all kinds of dolphins from one of the recommended books!
What I liked:
I liked the information that it came with on each of the topics presented.  You could learn a lot about the subject without needing other resources.  Of course, we love reading books and loved going through the provided book list and checking books out from our library to supplement.

I like that there is a lot of depth to the unit.  It can easily be adapted to a Kindergardener by not doing all of the activities and that there is enough for a 4th grader as well!
There wasn't a lot of extra work for me to do to teach a unit on this topic.  Well worth the money to have it all put together in one place for me.  I didn't have to search for more information!
What I didn't like:
The font used for the dotted line letters has the letter e starting in a weird place.  Faith noticed it and it bugged her! Also the font size was really too small for a Kindergarden or a first grader to trace over easily.  And too many words.  We ended up choosing to just cut and paste and not copy over the writing.  I wish that there was another option for font size so Faith could have written more of it.  

We found an error and therefore were missing one of the parts of the dolphin that we needed.
To sum it up: In the Hands of a Child has over 450 different lap books  available.  I would definitely suggest taking a look at their website to see all the different topics for various ages they have available.  We will be using more from this company to add some variety to our school year!
The important information: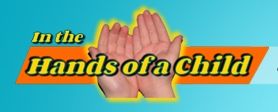 Dolphins, Porpoises, and Whales Lapbook
Order from: In the Hands of a Child
Price: normally $12.  Currently it is just $5!!!!!
Click to read more reviews from the Schoolhouse Review Crew. The Crew reviewed many different options of lapbooks and project packs for all different ages and subjects!